Welcome Giacomo Giammatteo!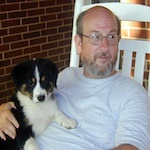 I am thrilled to say that Giacomo Giammatteo, author of Whiskers and Bear, will be a special guest on the blog all this week. Over the course of the week, I'll be sharing Giacomo's wonderful interview, plus a heartwarming guest post, and – last but not least – a touching excerpt from Whiskers and Bear!
As well as these feature posts, there is also a $25 Amazon gift card giveaway. You can enter this below and share the feature daily for extra entries! Please continue to stop by throughout the week to find out more about Whiskers and Bear and Giacomo Giammatteo!

TERRI GIULIANO LONG: Welcome, Jim. It's so nice to have you with us today.
Could you please tell us about your animal sanctuary?
GIACOMO GIAMMATTEO: My wife and I have had an animal sanctuary for twenty-four years. At one time, we had as many as fifty-five animals, but now, due to old age and sickness, we're down to only forty. We have all kinds of animals—dogs, cats, a horse, potbelly pigs, feral pigs, and even a wild boar.
What inspired you and your wife to create the sanctuary?
Both of us have always loved animals, but it was my wife who provided the impetus to do something. I was at work, and when I came home, my wife proposed the idea of helping animals in need. I couldn't think of a reason not to, so we did it.
Your new book, Whiskers and Bear, is the first in a series. What inspired you to write this series?
Several things. First, they are two of the most amazing dogs I've seen—and I've seen a lot. I felt the need to tell their story because so many animals are misunderstood. Just as humans have needs, desires, wants, preferences—animals do too. They are not here to please us, as much as we like to think so.
The second thing is that I suffered a setback in my life resulting from health issues. It left me disabled, and being on a fixed income, we quickly ran out of funds to run the sanctuary, as we spend more than a thousand dollars per month on food alone. I decided to write the book hoping that sales would help fund the sanctuary, as all proceeds go for that cause.
Whiskers and Bear is about two of your dogs. Could you please tell us about them? What prompted you to begin the series with them?
We've had a lot of dogs come through here since we started. Some we found homes for quickly, but most of them stayed with us. Bear and Whiskers have been two of the most memorable, perhaps the most memorable of all. I started the series with them because they had such strong personalities. 'Iron willed' is one way to describe them. And I felt people would find their stories interesting.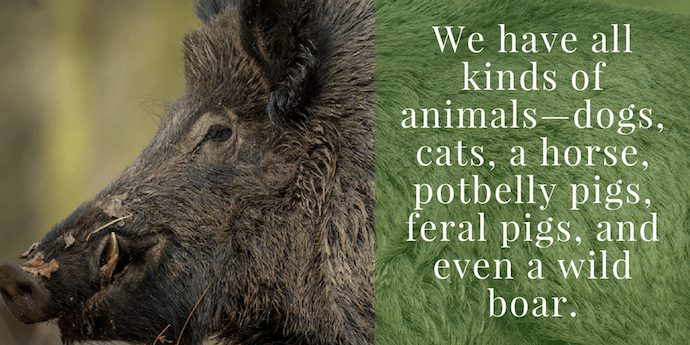 You've had serious health issues, including two strokes. Since then, you've learned to write again. That's truly amazing! Would you be willing to share your journey?
It's not something I'd recommend, Terri. In early February, 2015, I had a heart attack. Within fifteen days, I had another heart attack followed by two strokes. The strokes almost did me in, and I was left close to death's door. I couldn't walk, couldn't talk, couldn't even move my arms. I was eating from a tube peg inserted in my stomach and that had to stay in place for one year. I was in the hospital for four months (so you can imagine the bill). Fortunately, the amazing staff at Tirr Memorial whipped me back into shape (if you want to call it that) and within about eighteen months, I had learned to type again, albeit slowly. The biggest problem occurs because my left hand is not strong enough to press the keys, so typing an 'a', 'w', 'e' or any letter that requires using the last two fingers on my left hand is difficult.
I discovered that this problem had a silver lining, though. As my mother used to say, everything has a silver lining. Since I was now disabled, I had more time to write, so even though I was typing slowly, I got a lot more done. I published five books in just eight months—three on grammar and two mysteries. Now, I'm working on a series of books on grammar for kids. It will use the animals from our sanctuary as teachers.
Do you write every day? Could you please tell us about your process?
I didn't used to, but now, having nothing else to do, I write about twelve to fourteen hours per day.
What is your favorite aspect of writing? Least favorite? Why?
Favorite aspect is getting initial feedback from beta readers so that I can go back in and fix things, because no matter how good you think you are, you need beta readers. My least favorite is outlining. I'm a picky person, so my outlines require a lot of planning and detail.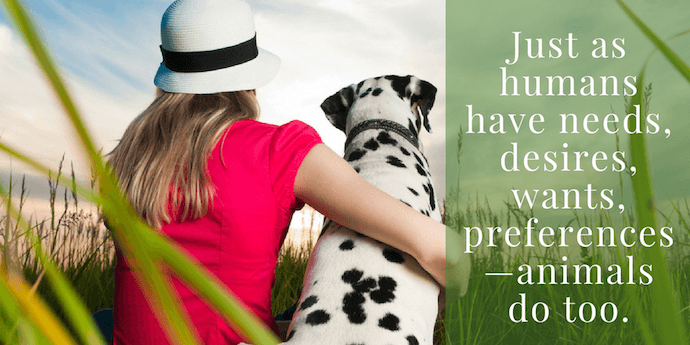 You also write crime drama as well as nonfiction books on grammar and publishing. What is your favorite genre and why?
My favorite is actually fantasy. I haven't published any yet because I wanted to finish the series before I did. I didn't want to start something that did not have a satisfactory conclusion. I'm almost ready now, having outlined and started the fourth book in my fantasy series. (the first three are done). I just realized I didn't answer the 'why' question you proposed. The 'why' is simple. Fantasy allows me to really get away to a different world and have fun. While mystery writing does that to some extent, it's not enough.
How was the process for Whiskers and Bear different from—and similar to—your other books?
Good question. For any other book, I'd say it was no different, but for this, it was. I was emotionally involved with this one to a greater extent. I'm usually involved at some level, because I create many of my characters based on real people, so when I write about them, I naturally think of those people. But Whiskers and Bear was different because I was writing about real characters. They may not have been people, but they meant almost as much.
What is your vision for your animal series? What's up next?
I have several more books planned in the Life on the Farm series, including one about my buddy, Dennis, the wild boar. But as previously mentioned, I also plan on a series of grammar books for children. It will be called No Mistakes Grammar for Kids. At present I have about five books planned.
Is there anything else you'd like to share?
Just a reminder that, as we say here, animals are people too. Treat them as such.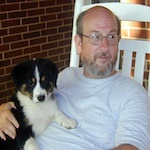 Giacomo Giammatteo is the author of gritty crime dramas about murder, mystery, and family. And he also writes nonfiction books including the No Mistakes Careers series as well as books about grammar and publishing.
When Giacomo isn't writing, he's helping his wife take care of the animals on their sanctuary. At last count they had forty animals—seven dogs, one horse, six cats, and twenty-six pigs.
Oh, and one crazy—and very large—wild boar, who takes walks with Giacomo every day and happens to also be his best buddy.
Find Giacomo Giammatteo here: Facebook LinkedIn Pinterest Twitter Website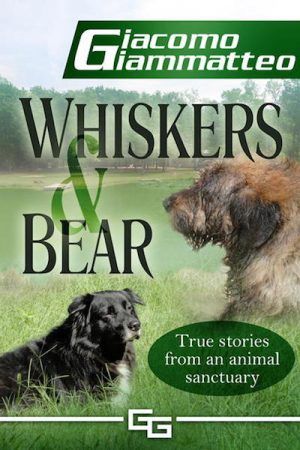 Whiskers and Bear were two of the best dogs in the world. They didn't always listen or even try to listen, but they were loyal to a fault, and they were the best of friends. They hunted all of their food, and they protected our animal sanctuary with no regard for their own safety.

Stop by on Wednesday for Giacomo Giammatteo's wonderful guest post about the best investment he ever made…