On Monday, Tilia Klebenov Jacobs joined me on the blog to share her wonderful advice on finding and working with a book illustrator. Today, Tilia returns to the blog to share her own experience of working with illustrator Matt Tames to bring her new book–Casper and Jasper and the Terrible Tyrant–fully to life. Thank you again for joining us, Tilia!
**At the bottom of this piece you'll find a giveaway—easily spread the word about Tilia's piece by tweeting or pinning or connect on social media for more chances to win!**
The Art of Working with an Artist
by Tilia Klebenov Jacobs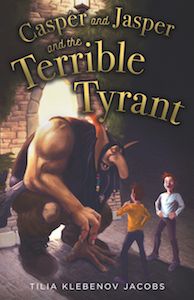 If you are an author working with an illustrator, the biggest obstacle to your joint success is this: the artist, no matter how talented, cannot see into your head. The world you have created and know as well as your own keyboard is, alas, shrouded in obscurity for him. Thus, the most pressing need for both parties is communication that is both clear and respectful of your and his mutual endeavors. (Side note: I am fully aware that many artists are female, especially since my female artist cousin is the one who referred me to the gentleman I will discuss in this post. But since he is male, I use the appropriate pronouns herein.) I recently discovered all of this and more when I enlisted the aid of Matt Tames for my upcoming children's fantasy novel, Casper and Jasper and the Terrible Tyrant. I can attest that this partnership was a process, every bit as much as writing the book itself was; and that by its very nature it involved challenges that the writing did not. Writing my novel was an individual endeavor, as is usually the case; but illustrating it was collaborative. One has to respect the unique challenges and rewards pertaining to such a partnership, and to remind oneself that differing skill sets are at work. The artist is doing something the author cannot; the author is doing something that the artist cannot. Ideally these two talents complement each other. I was fortunate that my artist was very open to my suggestions and revisions, and I can say without any hesitation that my book is richer, more exciting, and more appealing for his contributions.
Here is how Matt described the process when we first started working together:
For a project like this… I will create some thumbnail sketches to give you an idea of what the scene will look like. Then once you pick the composition you like, I refine the sketch and create a more detailed drawing from which to paint the final illustration on. The revision round is for any changes on the final painting. I know there will be more back and forth when discussing the sketches.
And indeed, we did not lack for back-and-forth! Our discussions over the ensuing months were lively and fruitful, never more so than in the case of one of my favorite characters, a troll by the name of Guthrum Danegeld. Here is his first appearance in the book:
A troll stood at the doorway, holding a club the size of a dinosaur leg. Just above its head hung a sign reading, "The Tone-Deaf Troubadour." Cautiously, Casper and Jasper approached. A raucous crowd of wenches, adventure-seekers, and ne'er do-wells filled the tavern, almost obscuring their view of a diminutive figure with soft, white hair bobbing through the throng.
"Good evening," said Casper, and stepped past the troll.
THONK.
One end of the club landed hard on the ground between Casper and the doorway. The other end was gripped in the troll's hand, which was hairy and so muscled that it appeared to be made of enormous, shaggy stones.
"Stop," said a deep voice. It sounded thick, as though the speaker's throat were made of oatmeal.
Casper and Jasper looked up, past the hand to the hairy, hard-looking arm that it was attached to, and to the face above that.
Trolls are, generally speaking, not pretty. This one was no exception. Its close-set eyes were small and piggy, and glittered above a nose the size of an eggplant. Its dark, stringy hair hung almost to its waist, and it wore baggy leather boots laced up its ankles. Its chest and stomach were covered with necklaces of colored beads. More beads and the skulls of small animals were braided into its voluminous beard. It was half again as tall as the tallest man Casper and Jasper had ever seen, and easily twice as broad in the chest and shoulders. It smelled like wet rocks.

Having read the entire manuscript, Matt created this: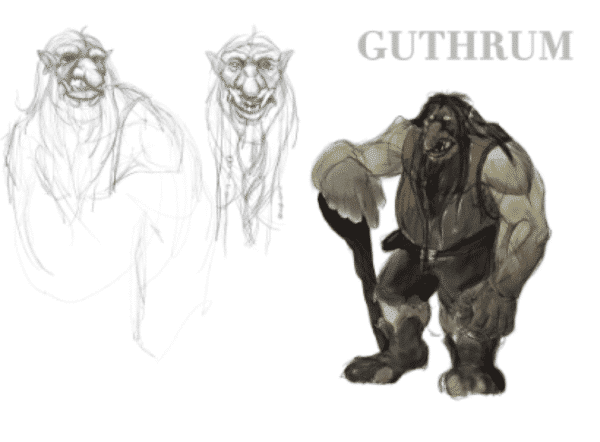 It was a start. But it didn't match the description in the book. I wrote back, citing the passage from the novel, and pointing out key elements that Matt had not focused on for this first go-around.
The overall concept is very good, but a few details are missing… [H]e needs long hair almost to his waist, the boots need to be laced up, he needs necklaces and the beads and skulls braided into his beard. Plus, the ears need to droop…
Matt went into a frenzy of revisions, and soon sent me this: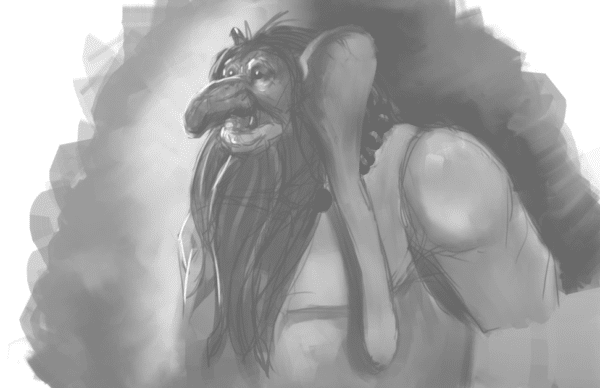 Closer, but still no cigar. I responded,
I like your main idea very much, but his face bothers me. He looks evil, and what he mainly is is big, strong, and stupid. Also, I want his ears more pendulous… The hulking body you've got for him now is great, as are the other details. But he's not a villain (even though he works for one), and I don't want him to look terrifying. Again, I hope this is helpful.
Ultimately our visions meshed, and Matt created a truly gorgeous painting of the scene. In fact, I loved it so much that I sent it to my cover designer because I wanted it to be everyone's first impression of the book: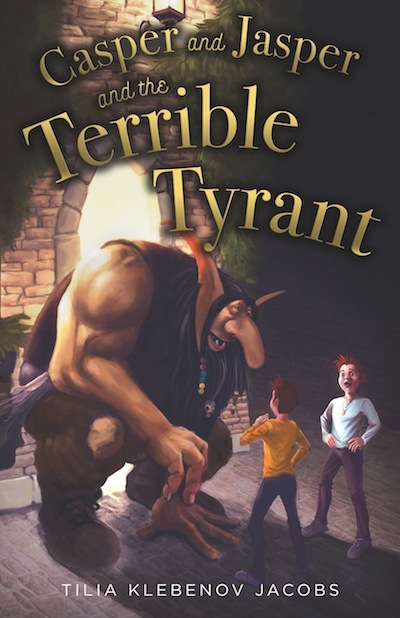 The process took much longer than I had bargained for, but the results were spectacular. This indeed was the Guthrum Danegeld I had imagined, the one my beta readers fell in love with, the one I hope will be just as enchanting and frustrating to everyone else as he is to me and to Casper and Jasper.
Matt also created three other paintings that I will use as illustrations. They will be black-and-white in the paperback edition of the book, and full color in the hardcover. "Special deluxe edition"!) We have also used several of his sketches as smaller illustrations sprinkled throughout the book. I am happy with all of them: Casper and Jasper and Herschel Wulfgrim and Count Wilhelm Scream and and and…
When shooting those emails back and forth, both author and illustrator have to be not only clear but tactful. Remember, he is probably working just as hard on the pictures as you did on the text. Once he has teased those images from your frontal lobe, he is letting readers experience the book as you do, seeing the characters and scenery as they turn the pages. The artist is the only one who can hand readers the keys to the world you created, letting them enter it and immerse themselves almost as fully as you have.

About Tilia Klebenov Jacobs
Tilia Klebenov Jacobs is the author of two crime novels, Wrong Place, Wrong Time, and Second Helpings at the Serve You Right Café. She has also published numerous short stories. Tilia is also a reviewer for IndieReader.com, a judge in San Francisco's Soul-Making Keats Literary Competition, and a board member of Mystery Writers of America. She has taught middle school, high school, and college; at present she teaches writing classes for prison inmates. Tilia's next book, Casper and Jasper and the Terrible Tyrant, comes out in 2018.
Website
Facebook
Goodreads
Find out more about Tilia's illustrator, Matt Tames, at
MattTamesArt.com
or on his
Facebook page
.
About Second Helpings at the Serve You Right Café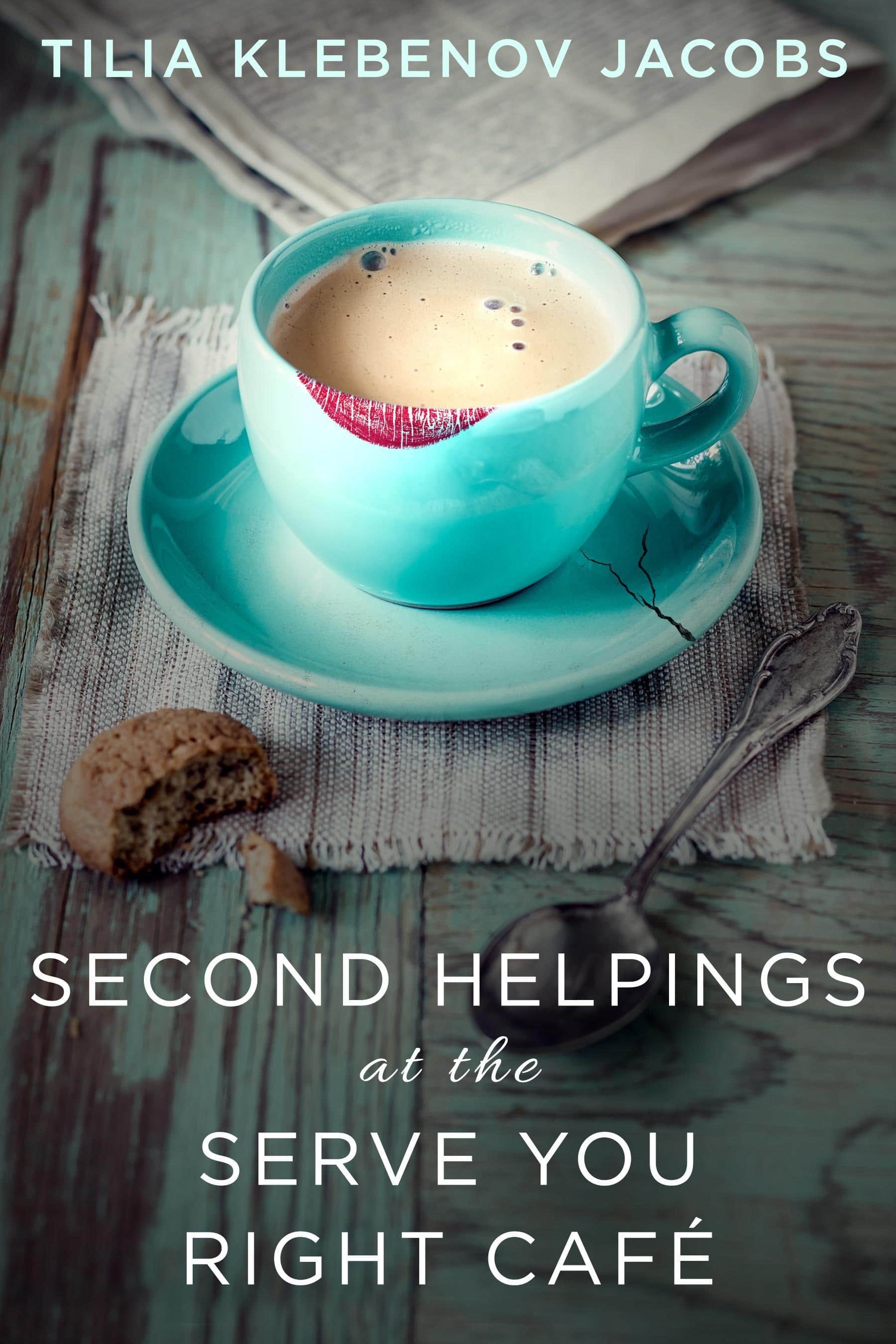 "What if the world didn't want you to go straight? Out on parole after almost ten years in prison, Emet First is repairing his shattered life. He has friends, a job, and his first date in a decade. The young woman, Mercedes Finch, is lovely but wounded. When her deranged brother learns about Emet's past, he will stop at nothing to destroy him—and suddenly Emet has everything to lose."
Amazon
About Wrong Place, Wrong Time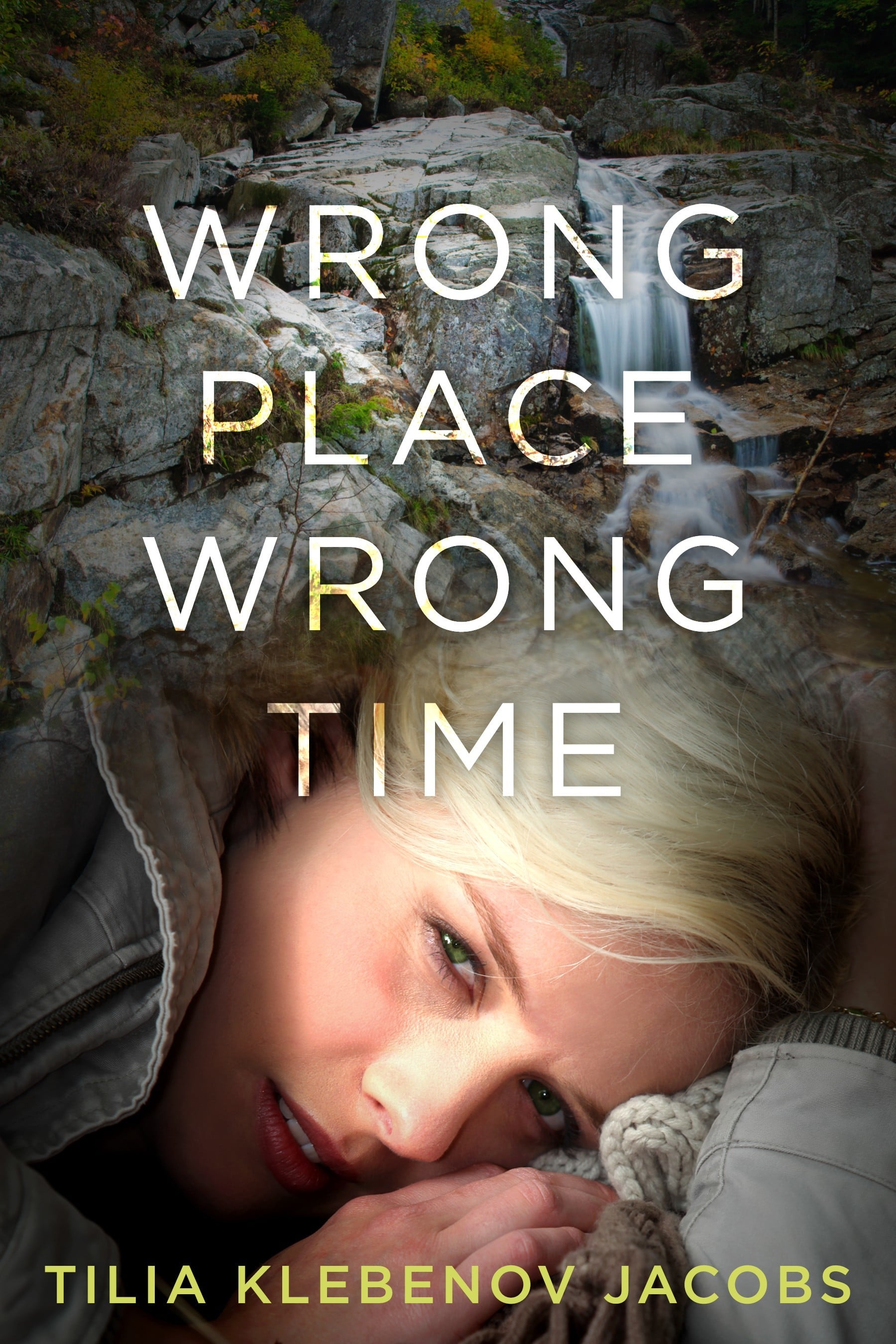 When Tsara Adelman leaves her husband and two young children for a weekend to visit her estranged uncle, she little dreams he is holding several local children captive on his lavish estate. Mike Westbrook, father of one of the boys, kidnaps her to trade her life for the children's. Soon Tsara and Mike are fleeing through New Hampshire's mountain wilderness pursued by two rogue cops with murder on their minds.
Amazon

Share the post, tell us your favourite illustrated book, or follow on social media for your chance to win.