Mindy Pollack-Fusi has visited the Art and Craft of Writing Creatively twice this week to introduce her new book, The Narcissist's Daughter: A Meshugenah Love Story. On Monday, Mindy – or rather, Dr. Mindy! – met four of her characters on the couch. On Wednesday, we learned more about Mindy herself in an in-depth interview and saw some fabulous pictures she's shared. Today, Mindy has returned for her final post of the week, where she shares some fun facts about herself, plus an except from The Narcissist's Daughter. After reading the post, carry on down for Mindy's social links, plus links for The Narcissist's Daughter. And don't forget to enter the giveaway for a $25 Amazon.com gift card!
Enjoy this slideshow of Mindy's fun fact answers!
Excerpt from The Narcissist's Daughter
This is a scene from chapter Nine, the end of Part One. Jody has just made a major mistake and is out for a walk trying to settle her head. She runs into an ex-lover who hurt her a decade back. They're on the street, where she and her dog, Ringo, have encountered flirty, annoying Brad, a few minutes before:
I raised my spine as tall as possible and pulled my shoulders back in a stance I'd learned in dog training class to command control. "Brad, you're the last person I will ever share anything with." I turned to go, but he grabbed my arm again.
"Jo, all I ever meant to do was love you. I fucked up. I still think of you, you're the woman I let get away. Two divorces and I still think of you. You married?"
I yanked away from his grip. "You and your damn lies; you're at it now, telling me you're here in town to see me. Damn it, I deserve better than lies and bullshit!"
"Okay, okay, calm down. I meant what I said about you, really. You were always sweet and kind, and sexy I might add, but I didn't think I deserved you. I was a prick. I know that now. I'm here for a meeting with a client. He asked me to come to his office this morning to discuss his retirement plans." He pointed across the street at the dental office sign. "But I was early, and I saw you. Hoped you'd still find me sexxx-y." He winked.
"No! I unequivocally do not!" I kicked at the curb. "Sling your shit at someone else. And, fuck you, Brad, just fuck you!" I tugged at Ringo's collar and ran off. I imagined Brad standing there with his jaw ajar, used to getting whatever he wanted.
"Thanks, Ruthie," I said in my head. "I guess I took the intensive 'Fuck You Factor' course myself!" Although my body was trembling, I felt carefree. Around the bend, I tied Ringo to a pole at a Shell station. I desperately needed water…and maybe a soothing brownie. As I walked into the convenience section, the headlines of The Boston Globe caught my eye, showing the President at yet another press conference about the mess heating up again with "that White House intern." I knew Uncle Nathan was probably standing two paces away, just off camera. I wished he could fix my love mess right now, too. I should have stayed away from Stewart's temptations just as Monica should have stayed away from Clinton. Poor Hillary.
Poor Sam.
"Two twenty-five, please." I paid and turned to leave when something peculiar caught my eye. A sign next to a display of laundry detergent must have once had a sign "biodegradable," but the "bio" had faded. I walked away, sucking down the water. Then I opened the brownie wrapper and repeated the word I had seen on the sign. Degradable. Damn it, I've felt degraded long enough from those who supposedly love me. At that moment I had an epiphany: I had been stuck between the proverbial rock and hard place for way too long; unless I could let go of the past, try to accept, or at least tolerate, all the narcissists who had hurt me, and choose my own path without needing their approval, I would remain stuck forever!
I guzzled more water and tossed the brownie, still in its wrapper, into the trash. The hell with all of them. No more walking over Jody! I entered the phone booth at the far side of the gas station, popped in a quarter, then punched in my mother's business number. Ida wouldn't be in the office until later. She'd hear the message then.
"Hello, this is Jody," I said in a professional tone. "I got your message, Mother. I will make a donation to your cause, but I will not be attending. I will be on vacation in California with a new and wonderful boyfriend whom you probably won't approve of because—horrors!—he isn't Jewish, nor a doctor or lawyer. I've actually been seeing him for a while and kept it from you so I didn't have to hear your insults. And you're probably shaking your head right now, and once again disappointed in me, but you'll excuse me while I get on with my life instead of the one you've continually planned out for me. Oh, and Hallie is all set while I'm away," I lied. "Please do not think I'll need you to babysit, not that you have ever offered. And, do not call to discuss this. I can assure you I will not answer."
I hung up without saying goodbye and prayed my sister-in-law could watch Hallie and Ringo while I traveled. I was relieved not to attend yet another annual benefactor dinner in the massive Great Room my mother had built the year after Uncle Harry and Aunt Bernice had moved into their Westchester County mansion. This year, I could breathe in fresh La Jolla air and love of a kind man, instead of rivalry and self-importance.
Next I called my divorce attorney's office. She took Mondays and Fridays off to be with her kids, but she'd check her messages.
"Beatrice, it's me. You said I'd know when I was ready to push harder, and you were right. I'm ready. Go ahead and subpoena him for those documents he's sitting on, and let's focus mostly on the custody stuff. I'll call you soon and explain what's going on."
Another phone call, to Stewart's answering machine. I knew he'd have either left for work meetings or still be asleep, curled up with Brooke and not answering the phone. After I heard the familiar short message, I unleashed my fury. "If I wasn't totally clear before that you are continuing to fuck with me, now I know for certain. Get the fucking documents filed NOW or you'll be hearing from my attorney really soon!" I slammed down the receiver just as I heard someone pick up.
One final phone call. No quarters left, so I punched in my credit card number.
"Hi, sweetheart. I hope you check your home messages soon. I'm so sorry I haven't answered your recent romantic emails. I wasn't feeling well, sort of sick to my stomach; didn't want to worry you about it. The good news is I'm fine now, truly fine. It was just something yucky I guess I hadn't fully digested. Call me. By the way, I want you to meet Hallie as soon as possible, and then my grandmother, too, and, when, exactly, do we leave for California?"
Then to myself I said, "The sex will come; love this man his way—now."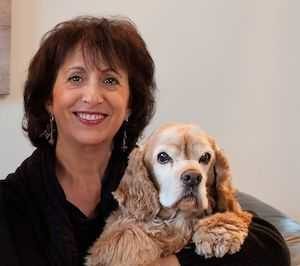 Mindy Pollack-Fusi is an award-winning, lifelong writer, former public relations professional, and veteran journalist and essayist for The Boston Globe. She founded The Place for Words in 2009 to teach creative writing to adults and coach students on college application essays. She is the editor of "The Ice Cream Stand, Stories & Poems" by 21 Writers, published in part by a Bedford Cultural Council Grant. She holds a B.S. in Magazine Journalism from Syracuse University's S.I. Newhouse School of Communications and an M.S. in Public Relations from Boston University's School of Public Communications. Mindy lives in Bedford, Mass. with her husband and rescue dog, Doogie Howser, The Doctor of Love! This is Mindy's first novel, published by her indie imprint, The Place for Words Press. (The photo is with Mindy's late great cocker spaniel, Gilligan, whose fictional persona plays a major role in The Narcissist's Daughter.
Website
LinkedIn
Twitter
Facebook
About The Narcissist's Daughter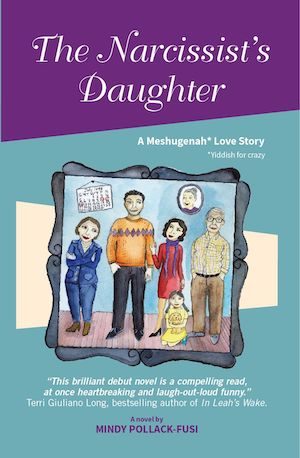 Can love and intimacy guide Jody's exodus from her controlling mother, or is the grip of the past too powerful to overcome?
Jody Horowitz grew up in a tony community outside Boston with her narcissistic mother, her passive father, and her snooty older sister. Breaking any of Mother's multiple rules meant enduring verbal lashings and comparisons to her "perfect" sister. Jody acquiesces in practice, if not in spirit, starting with Rule # 1: Marry a Well-Off Jewish Man. Have his baby. Which she does.
But Jody, now 33, with a one-year-old daughter, learns that her "well-off-enough Jewish man" has been screwing a shiksa, and Mother suggests that in order to fix her marriage, Jody "wear more lingerie." Instead, Jody kicks the cheater out, recovers her life with her work, her daughter and their cocker spaniel….and, despite Rule #1, falls for a kind Italian Catholic widow. Their love affair leads her to expedite her divorce, despite the risk of losing not only the only family she has ever known, but future shares of the family's fortune. Is this worth it, to be with a partner who has a big heart—but a thin wallet?
Her new man seems well worth it, and Jody seems truly happy for the first time in a long time…despite the secret she must keep from him, and the secret she discovers about him. As she grapples with her heart, Mother re-surfaces with more mishegas, instituting Rule # 2—Keep Secrets When Necessary. She declares the divorce and goyim guy to be hush-hush and insists that Jody bring her estranged husband to the annual family reunion in upscale Westchester County, NY. That request pushes Jody over the edge. With her loving Bubbe's support, she resolves to finally emerge from her mother's narcissism—and shatter all rules so she can be true to herself, her daughter, and her new man.
This decision unravels her soul and leads to a dramatic personal breakdown that stretches from Boston to California to Maine, which even her best friend Ruthie can't fix for Jody this time. By the start of the highly-charged family reunion, Jody must summon the courage to proclaim her allegiance to her man, not be a pawn to her family, and be a positive role-model for her daughter. To everyone's surprise, a third choice, amid a tumultuous night of secret-revealing, comes to light.
Will Jody remain mired in Mother's manipulation or freed from a lifetime of controlling, narcissistic influences? And how will her young daughter fare from the family mishegas that threatens to consume them? Can love and intimacy guide Jody's exodus, or is the grip of the past too powerful to overcome?
With suspense, humor, romance, a compelling plot, and a Yiddish glossary, this novel grips the reader from start to finish—whether or not they understand the enormous challenges that the daughter of a narcissistic mother must overcome in order to become her own person. Those who do understand, or have lived with a self-absorbed or narcissistic mother, will see themselves in Jody—and cheer her on all the way to her final decision.

Amazon
Goodreads
The Narcissist's Daughter is also available for ordering for indie bookstores, B&N on demand, and libraries on Ingram. The ISBN is 9780983739777.