What is it that you love about writing and being able to hear the feedback from readers?
Question from Heather by email
The writing process transports me.
I'm passionate about writing. I enjoy every aspect of the process, from the initial burst of inspiration through the painstaking, often frustrating, months or years of revision. But it's that aha moment that brings the work to life and keeps me writing – that moment when the story suddenly comes together. You see the relationships among the various parts – chapters and scenes – and the connections make sense. It's as though you've been through a storm; suddenly, the fog lifts and you see sun.
I always joke that in New England we have three perfect days a year. But those days, because they're rare, are magnificent. You feel optimistic, alive, bursting with energy. That's exactly how those aha moments make me feel. I can't imagine not writing. Writing transports me. I lose myself in the process.
I love stories and believe they shape us in powerful ways.
I also love stories. I have an anthology called We Are The Stories We Tell. The title is a very true statement. Stories shape us, in the imagining – the way we reshape events and experiences – as well as in the retelling. Memory works in much the same way. We internalize experiences and recall them through the lens of our own subjectivity. A friend and I may share an experience, yet in recalling it years later, we're apt to remember it differently. Perhaps we focused on different aspects of the moment or we may have internalized the experience differently. Either way, past experiences shape our assumptions and behavior, thus the past determines the present. In telling – and listening to – stories, we internalize assumptions and form new beliefs. So the stories we tell affect the teller, the listener, and the culture in powerful ways.
I love hearing what readers think and appreciate constructive feedback.
The immediacy of reader feedback is, quite honestly, both a blessing and a curse. I love knowing what readers think of my work. Thoughtful reviews, whether positive or negative, are instructive – particularly when the points are specific. I learn a lot from such comments and insights and, I hope, they help me to evolve and progress as a writer.  Of course not every remark or review is thoughtful. The nasty ones are hurtful and, if we let them get under our skin, can destroy a writer's confidence. It's hard to avoid them, but I try to focus on constructive comments and ignore the rest.
Edits for the new edition of In Leah's Wake respond in part to reader remarks.
New eBook technology has enabled us to edit books quickly and almost effortlessly. As a result, writers are able, if and when we deem it necessary, to respond to reader feedback. I based the edits for this new edition of In Leah's Wake in part on reader responses. As with anything else, reading and writing trends evolve. When I worked on the early drafts of the novel, literary work was in vogue. Many of the books I read and enjoyed meandered. Because I liked this, I wrote In Leah's Wake in a similar style. Today, many readers prefer tightly plotted stories. I couldn't – and wouldn't – rewrite simply to please anyone. I did, however, see merit in the reader responses. I considered digressions and eliminated any I thought extraneous, without changing the story. I hope readers enjoy the new edition and find it a better, stronger book.
About In Leah's Wake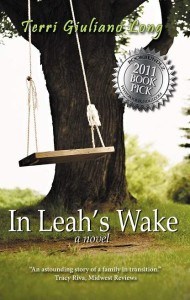 The Tylers have a perfect life-beautiful home, established careers, two sweet and talented daughters. Their eldest daughter, Leah, an exceptional soccer player, is on track for a prestigious scholarship. Their youngest, Justine, more responsible than seems possible for her 12 years, just wants her sister's approval. With Leah nearing the end of high school and Justine a seemingly together kid, the parents are set to enjoy a peaceful life…until everything goes wrong.
As Leah's parents fight to save their daughter from a world of drugs, sex, and wild parties, their divided approach drives their daughter out of their home and a wedge into their marriage. Meanwhile, twelve-year-old Justine observes her sister's rebellion from the shadows of their fragmented family-leaving her to question whether anyone loves her and if God even knows she exists.
Can this family survive in Leah's wake? What happens when love just isn't enough?
***
Margot Livesey, award-winning author of The Flight of Gemma Hardy, calls In Leah's Wake, "A beautifully written and absorbing novel."
Amazon ~~ Amazon UK ~~ Barnes & Noble
Enter the competition
a Rafflecopter giveaway