The Literary World Trip starts tomorrow and I want to extend my thanks to all the bloggers and authors who have submitted 'stops' for this tour! Perhaps not surprisingly, the bulk of the entries submitted cover USA or UK locations but there's plenty to celebrate in both these great countries and it's always a bonus to find out more about both. Nonetheless, I also more than welcome the entries that take us to other far flung places, including Japan, Australia and even Heaven!
If there's a location you'd love to have seen featured in this trip, don't worry! It's highly likely that the Literary World Trip will run again in future. You can sign up to the weekly newsletter here if you'd like to be kept up to date with new posts and events on a regular basis.
In the meantime, I hope you enjoy these great stops from these wonderful authors and bloggers. Stop by every weekday between now and end July to find out more about the books, authors and bloggers listed below and enter the giveaway.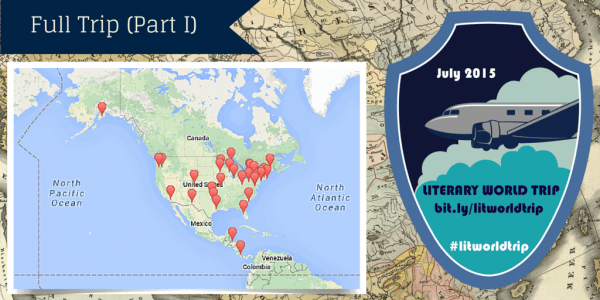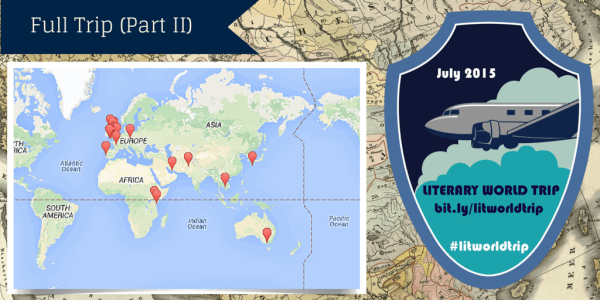 Literary World Trip: The Americas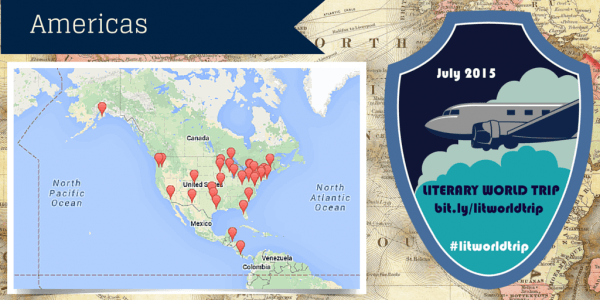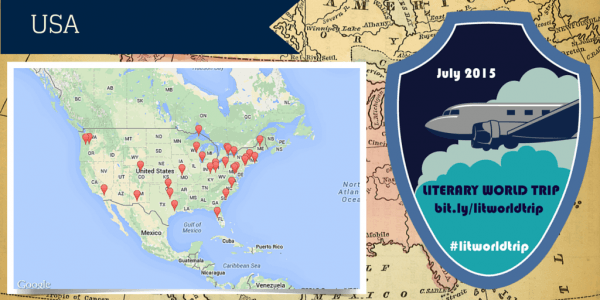 Lynne Cantwell, Dragon's Web – Kenai Fjords, Alaska, USA
Marie Landry, Waiting for the Storm – CN Tower, Toronto, Canada
DJ Swykert, Maggie Elizabeth Harrington – Central Mine, Michigan, USA
Julia Harper, Hot – Wisconsin, USA (Submitted by Lois M.)
Zoe Dawson, AfterLife (The Starbuck Chronicles) – Stone Arch Bridge, Minneapolis, USA
Lu J Whitley, BloodMarked – Beverly Shores, Indiana, USA
Valerie J Lewis Coleman, The Forbidden Secrets of the Goody Box – 360 Restaurant, Embassy Suites, Newport on the Levy in Covington, KY, USA
Alison Brunning, Calico – Chillicothe, Ohio, USA
Janice Lane Palko, St Anne's Day – 40th Street Bridge, Pittsburgh, USA
Jill Vialet, Recess Rules – Macomb Street Playground, Washington DC, USA
J.P. Sloan, The Curse Servant – Lexington Market, Baltimore, USA
Barbara Ehrentreu, After – Northern Westchester Hospital, Mount Kisco, New York, USA
Zoe Dawson, Going to the Dogs – Joe's Coffee Shop, W 120th Street, New York City, USA
Elaine Cougler, The Loyalist's Wife – "French Castle" at Fort Niagara, New York, USA
Deidre Mapstone, Sigrun (Bandamann Saga) – Canandaigua Lake, Canandaigua, New York, USA
NW Moors, The Black Swans – Naples Causeway, Maine, USA
Melissa Corliss DeLorenzo, The Mosquito Hours – Gooseberry Island, MA, USA
Nancy Naigle, Life After Perfect – Boot Creek, North Carolina, USA (Submitted by Susie W.)
Robin Murphy, Secret of Coffin Island – Sullivan's Island, South Carolina, USA
K.K. Allen, The Equinox – Summer Island, Apollo Beach, Florida, USA
Elizabeth Horton-Newton, View From the Sixth Floor – The Sixth Floor Museum, Dallas, Texas, USA
Tim Hemlin, The Wastelanders – The Houston Medical Center, 6400 Fannin Street, Houston, Texas, USA
Luana Ehrlich, One Night in Tehran – Norman, Oklahoma, USA
Les Lynam, Saves Nine – Starbucks, 3040 W Broadway Blvd, Sedalia, Missouri, USA
Sarah Ashwood, Aerisia: Land Beyond the Sunset (Sunset Lands Beyond trilogy) – Colorado, USA
David Lee Summers, Owl Dance – La Posta de Mesilla in Mesilla, New Mexico, USA
Chrissy Moon, DayDreamer – Steer 'N Stein – Hemet, California, USA
Kelly Hitchcock, Porttrait of a Woman in Ink – Incredible Pizza, Springfield, USA
Beverly Cleary, Beezus and Ramona – Klickitat Street, Portland, Oregon, USA (Submitted by Katie Fitzgerald)
Crystal Walton, Eyes Unveiled – The Coyote Wall & Labyrinth Trail above the Columbia River, USA
J.H. Bográn, Firefall – Hotel Villas Telamar, Tela, Honduras
Karin Rita Gastreich, Eolyn – Talamanca Mountain Range, Costa Rica
Literary World Trip: United Kingdom
Louise White, The Calling – Saltcoats, Ayrshire, Scotland
Arthur Ransome, Swallows and Amazons – The Lake District, United Kingdom (Submitted by Katie Fitzgerald)
Ian Barker, One Hot Summer – Middlesborough Railway Station, United Kingdom
Megan Tayte, Death Wish – Edgcumbe Country Park, Cornwall, United Kingdom
CK Dawn, Cloak of Shadows – Porthleven, Helston, Cornwall, United Kingdom
Donna Brown, Playing House – St Just, Cornwall, United Kingdom
Kara Jorgensen, The Winter Garden – Oxford University, Oxford, United Kingdom
Ichabod Temperance, A Study in Temperance – British Museum, London, United Kingdom
Chess Desalls, Travel Glasses – Folkestone Harbour, United Kingdom
Literary World Trip: Europe (excl United Kingdom)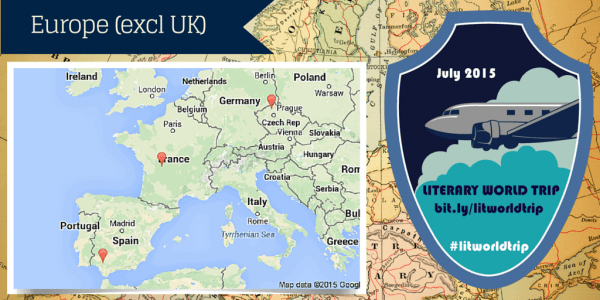 Hannah Fielding, Indiscretion – Puente de Triana, Seville, Spain
Liza Perrat, Wolfsangel – Oradour-sur-Glane, France
Kate Breslin, For Such a Time – Terezin in (then) Czechoslovakia
Literary World Trip: Kenya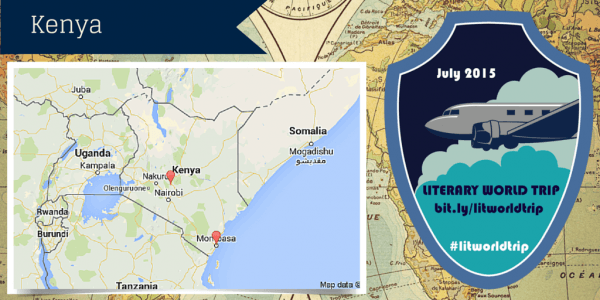 Tony Riches, The Shell – Mombasa, Kenya
Wangari Maathai, Unbowed, One Woman's Story – Ihithe village, Nyeri, Kenya (Submitted by Claire McAlpine)
Literary World Trip: Final Stops!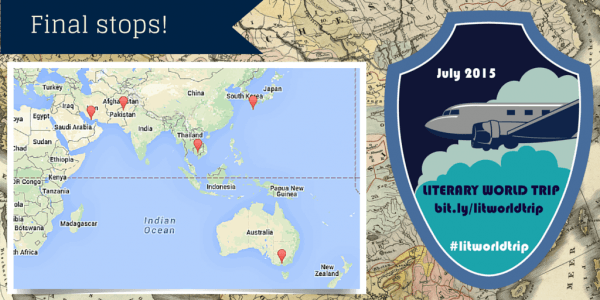 Jonathan Gould, A Fate Worse Than Death – Heaven
Khalid Muhammad, Agency Rules – Never an Easy Day at the Office – Pakistan
Kim Fay, The Map of Lost Memories – National Museum (formerly Musee Albert Sarraut), Phnom Penh, Cambodia
Makoto Shinkai, 5 Centimeters Per Second – Tanegashima Island, Japan (Submitted by David M. Brown)
Iris Blobel, Let Me Love You – St Kilda Beach, Melbourne, Australia
Darcy Conroy, As Long As She Lives – St Kilda Beach, Melbourne, Australia
Literary World Trip: Giveaway

Spread the word, submit your locations and keep stopping by each day to Tweet about the world trip – each of these will give you a chance to win.
Check out the Twitter chatter, plus Instagram and Pinterest pics using #litworldtrip. You can easily follow the #litworldtrip Twitter feed here.