Death Wish by Megan Tayte
Mapping the Book
About the Book
About Megan Tayte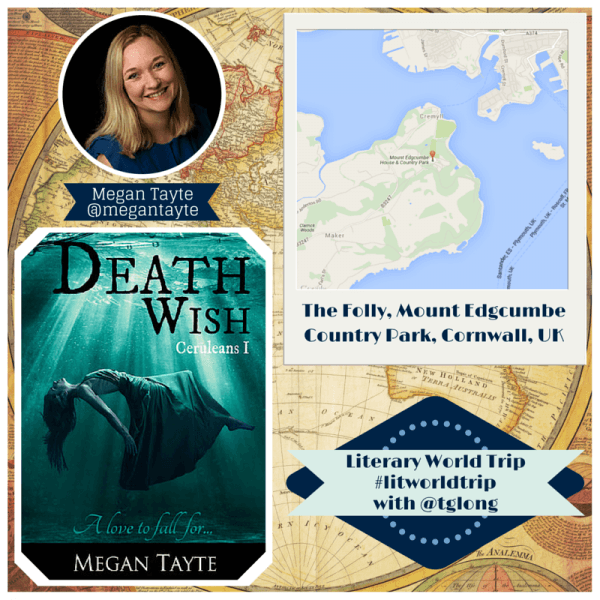 Book/Scene Location: The Folly, Mount Edgcumbe Country Park, Cornwall, England, UK
What happens there? A first kiss at the top of an ancient folly, perched precariously on a cliff. Two young people struggling with grief and frightened to trust, to love, letting go and falling into each other.
Excerpt
We were beside the ruins of a beautiful stone folly teetering on the edge of a very, very high hill. The view was panoramic: I could see all around the bay, from Royal William Yard to the city of Plymouth to the breakwater to the coast curving away to Twycombe…

The crumbling stone steps inside the folly were treacherously steep, and behind me Luke kept his hands on my hips as I climbed. At the top a window cut into the stonework framed a breathtaking view. I leaned forward and looked down. One wrong move and we'd be on the rocks far, far below.

We stood together, looking out, on top of the world and a step from death.

I turned to Luke. Our faces were so close, barely a breath of air between us, but there was no rush, no urgency. I pushed up onto my toes and his head sank down… and our lips met. And though my feet were planted firmly on stone that had stood solidly for centuries, in that moment I fell. I fell for him, I fell in love. I fell, and I didn't want to be saved.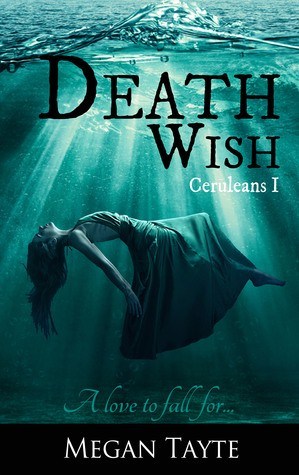 IN SEARCH OF THE MEANING OF DEATH, SHE'LL FIND THE MEANING OF LIFE.
The Ceruleans: mere mortals infused with power over life and death. Five books; one question: If the might of the heavens were in your hands, would you be sinner or saint?
Seventeen-year-old Scarlett Blake is haunted by death. Her estranged sister has made the ultimate dramatic exit. Running away from school, joining a surfing fraternity, partying hard: that sounds like Sienna. But suicide? It makes no sense.
Following in her sister's footsteps, Scarlett comes to an isolated English cove with grand plans to uncover the truth. Alone. But she hasn't reckoned on meeting two boys who are determined to help her. Luke: the blue-eyed surfer who'll see the real Scarlett, who'll challenge her, who'll save her. And Jude: the elusive drifter with a knack for turning up whenever Scarlett's in need.
As Scarlett's quest for the truth unravels, so too does her grip on reality as she's always known it. Because there's something strange going on in this little cove. A dead magpie circles the skies. A dead deer watches from the undergrowth. Hands glow with light. Warmth. Power.
What transpires is a summer of discovery. Of what it means to conquer fear. To fall in love. To choose life. To choose death.
To believe the impossible.
Once upon a time a little girl told her grandmother that when she grew up she wanted to be a writer. Or a lollipop lady. Or a fairy princess fireman. 'Write, Megan,' her grandmother advised. So that's what she did.
Thirty-odd years later, Megan writes the kinds of books she loves to read: young-adult paranormal romance fiction. Young adult, because it's the time of life that most embodies freedom and discovery and first love. Paranormal, because she's always believed that there are more things in heaven and on earth than are dreamt of in our philosophy. And romance, because she's a misty-eyed dreamer who lives for those 'life is so breathtakingly beautiful' moments.
Megan grew up in the Royal County, a hop, skip and a (very long) jump from Windsor Castle, but these days she makes her home in Robin Hood's county, Nottingham, with her husband and children. When she's not writing, you'll find her walking someplace green, reading by the fire, or creating carnage in the kitchen as she pursues her impossible dream: of baking something edible.
Cloak of Shadows (The Netherwalker Series, Book One) by CK Dawn
Mapping the Book
About the Book
About CK Dawn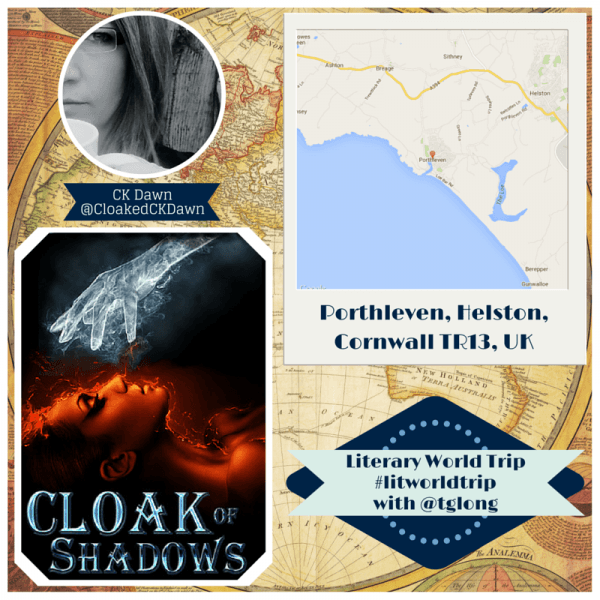 Book/Scene Location: Porthleven, Helston, Cornwall TR13, UK
What happens there? A secret modern-day Camelot exists near the sleepy coastal town of Porthleven. The castle's inhabitants descend from the Knight's of The Round Table and now belong to The King's Court defending mere dociles (mortals) from creatures that devour from the shadows.
Excerpt
Before reaching the small coastal town of Porthleven, Bishop turned left off the main highway and headed down an old country road. The trees became denser by the minute and the sun was going down fast. The air in the car was thick with anticipation. Their destination was very close. New arrivals to the castle could always feel it. Lourdie's skin tingled with energy as they closed in on hundreds of unfamiliar guardians. Her senses hummed as they neared the King's Court, the cradle of guardian society.

"Ladies, may I present Castle Clogyn." Bishop beamed with pride as the tree line parted revealing the most magnificent fortress the two guardians had ever seen. The sun was beginning to set and streaked the sky with the most beautiful colors of reds, pinks, and oranges, intensifying the castle's presence. "Guardian, welcome to the Cloak."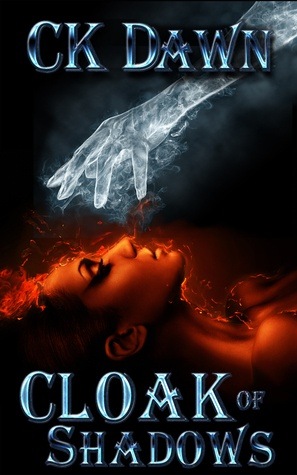 What if all you've ever known of King Arthur's legend was a lie to mislead you from the truth? What if Camelot truly existed, but was destroyed to keep its secrets? What if there were descendants of the Knights of the Round Table defending us today from the creatures that lurk within the shadows? If the gloaming came looking for you would you answer its call?
Fourteen year old Abigail Thorne answered the gloaming and it turned her life upside down. Along with her mentor Lourdes Reese, a seasoned hunter in the King's Court, she now banishes the evil shadows while most dociles sleep in their beds.
Fighting hidden creatures that feed on humans, glimpsing fractures that lead to another world, and wielding magical weapons all before geometry? That's a normal day for Abbey now, and she loves every minute of it. But, she has no idea that being sent to Britain for her last hunter trial will unleash a chain of events that will change everything and everyone she loves forever.
A life will be lost, a life will be taken, and an unexpected new romance will emerge all while the fate of two worlds balances on the edge of a hunter's blade.
Coffee loving gamer girl, Sci-fi enthusiast, and sneaker wearing advocate. CK Dawn loves to snuggle up with her cats and read, but found writing fantasy stories was even better. In writing, CK has truly found her bliss. Stay tuned, because there will be a lot more to come in the Netherwalker series. Seriously, things have only just begun.
Playing House by Donna Brown
Mapping the Book
About the Book
About Donna Brown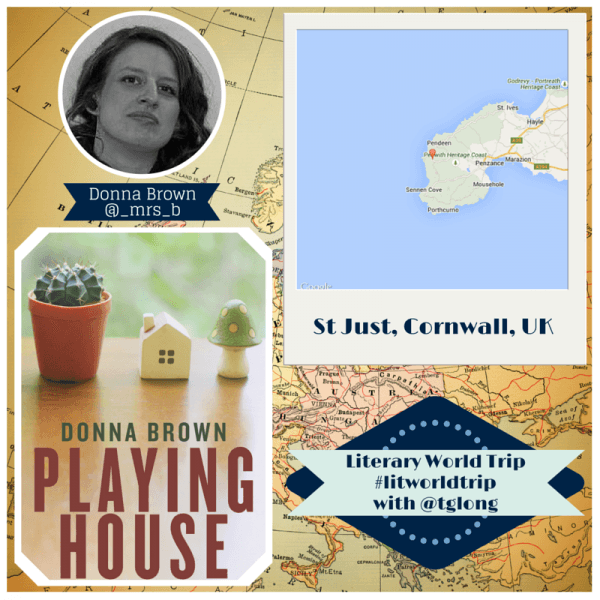 Book/Scene Location: Unnamed auction house at St Just, Cornwall, UK
What happens there? David and Emma bid for a seascape in the hope that winning it will right their bad fortune.
Excerpt
"Lot 17," the auctioneer began. They listened as he shared a brief bit of background, the story they already knew about Masters' accident and the tragic end to his painting career. There was clearly interest in the room, both in the painting and the local legend. Masters had lived – possibly still did live – in nearby St Ives and Cornwall was fiercely proud of its local heroes.

The bidding moved steadily at first. As nervous as David was, he held his nerve as the bidding climbed, allowing the other parties in the room to push it along rather than betraying his interest. As the bidding finally began to slow at seventeen thousand, he came in at seventeen and a half.

Eighteen.

Eighteen and a half.

Nineteen.

Nineteen and a half.

Twenty.

At twenty and a half the auctioneer met resistance and David began to hope that he might get the seascape. A slow crawl brought it to twenty seven-fifty, then twenty one. And up. And up. And up.

He had misjudged. He quickly calculated. The money in the bank after Gerard's daylight robbery, the car, the limit on his credit card. Could he go higher? Should he go higher?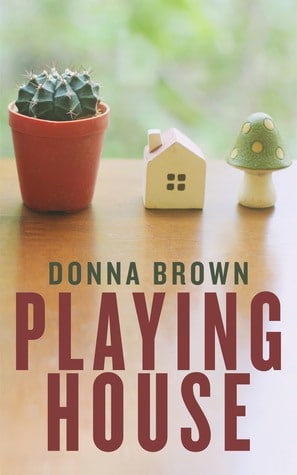 "Masters only did two seascapes before his hand was crushed."
David and Emma Thomas have reached the end of the road. Only one thing is preventing them from parting ways: a painting they bought on honeymoon. Priceless to both of them, the only solution seems to be to find the second of the elusive Masters' seascapes and each carry away a piece of the past.
Will an impromptu road trip set them free once and for all?
Donna is a longtime book lover and sometime book reviewer and has devoured books from an early age. She writes short (or long) stories as and when inspiration hits and is married to fantasy author David M. Brown (Fezariu's Epiphany, A World Apart). She was also co-contributor to David's book, Man vs Cat, a humorous look at life with six rambunctious rescue cats.
Donna has lived in many different areas of the UK over the last 30-something years but has remained in Yorkshire for the past decade. She ardently disputes the misnomer that 'It's grim up north'.
Click here for the rest of the schedule



Have you enjoyed any of these books or any other titles set in Cornwall, England? Let us know in comments!
Literary World Trip: Giveaway

Spread the word, submit your locations and keep stopping by each day to Tweet about the world trip – each of these will give you a chance to win.