Click here for Day 5 of the Literary World Trip
After by Barbara Ehrentreu
Mapping the Book
About the Book
About Barbara Ehrentreu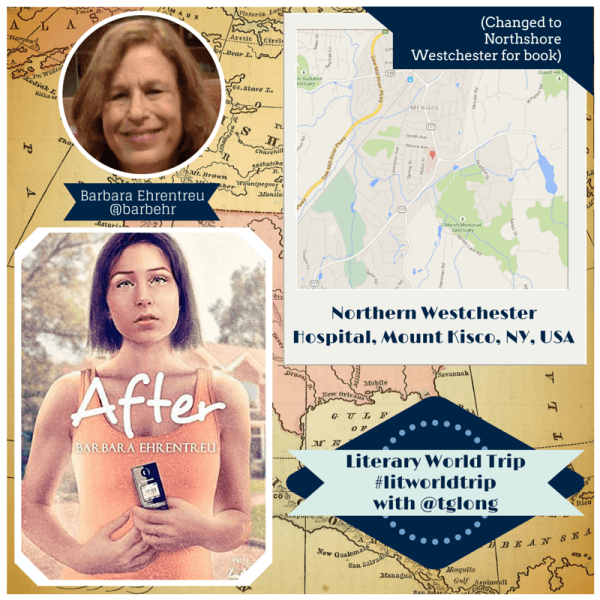 Book/Scene Location: Northern Westchester Hospital (Changed to Northshore Westchester for book) in Mount Kisco, NY, USA
What happens there? The main character's father has had a heart attack and needs bypass surgery. Lauren visits every day with her family.
Excerpt
The phone rang as the ball left the pitcher's glove and I glanced toward the sound. Mom's tears made me forget all about the game. My life changed while the TV blurred and turned into a nightmare kaleidoscope. That moment has been indelibly pressed into my thoughts.

My sister, Diane, was upstairs hunched over her computer as usual. She's not a baseball fan at all. But I lived and breathed for the Mets that fall. They had such a great chance of getting the pennant and maybe even winning the World Series. I obsessed about the Mets, and of course, Joey.

Joey, my best friend from kindergarten, was always there for me. It's hard to imagine a recess without him by my side. He's bigger than I am and always looked a little older than he was. Mom liked Joey because he reassured her he would obey her rules. Maybe it was his easy smile or his clear, gray eyes.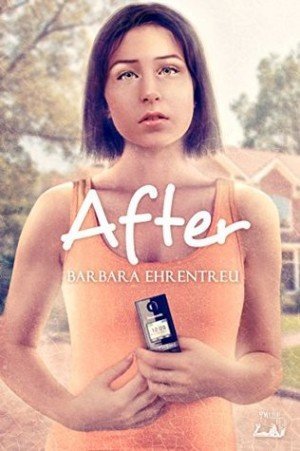 "After" is a story about the struggles Lauren Walstein, a fifteen-year-old girl, has to go through when her father suddenly has a heart attack and undergoes bypass surgery. In one phone call her life changes completely. Lauren is a character with whom most teens will relate. Her best friend since kindergarten, Joey, is going out with her enemy and they have grown apart. Before the phone call all she thought about was getting a scholarship for softball, and the Mets. Suddenly she must deal with both her father's illness and being in school. The demands on her from both ends complicate the story. In the middle of all this, she finds she is developing feelings for her best friend that are more than friendly. Is he feeling the same or is he just comforting her? In addition there is Joey's mean girl friend Amber, who doesn't appreciate Lauren being in the picture. Will Lauren's father recover? How will Lauren cope with her new feelings for Joey?
Amazon
Goodreads
I write about events that happen to me and around the world from a writer's point of view. Nothing in my life ever goes smoothly. My focus is on young adult and children's authors, but occasionally I will bring you an adult author. It is my pleasure to introduce new books and authors to my readers. Writing is my life!
Website
Twitter
Hounded (Going to the Dogs, Book 3) by Zoe Dawson
Mapping the Book
About the Book
About Zoe Dawson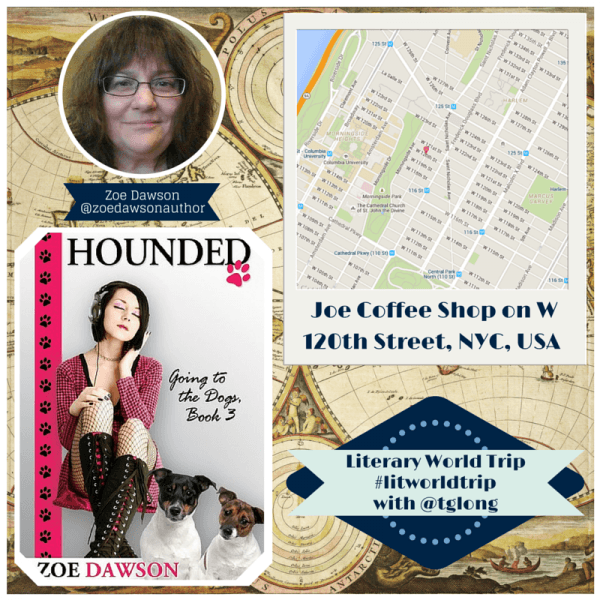 Book/Scene Location: Joe Coffee Shop on W 120th Street, NYC. It's a local, family-owned coffee shop in NYC and Philly dedicated to making flawless coffee served with warm hospitality.
What happens there? My heroine has her first impromptu date with the hero along with a comical discussion about zombies, the zombie apocalypse, and how the hero would make a great zombie killer while they are at the café.
Excerpt
"You've got a whole zombie thing going there. You looking forward to the invasion? Or hoping to blend in?"

She stared at him, her eyes as dark as midnight, in a completely odd, but extremely good, way. The way she looked at him sizzled along his nerve endings.

It sent chills through his system like the first free fall on a rollercoaster. That quick minute when the cars drop away and travel a million miles in two seconds flat, leaving your stomach behind.

The way she dressed was intriguing, sexy, as if she knew exactly what she did to a man, but there was an aura of innocence that still clung about her like an intoxicating perfume. His innocence had been lost on the battlefield and, for a moment, what he had done and the consequences of those actions twisted in his gut like barbed wire.

"Neither, actually. I'm hoping to survive." She grinned.

He couldn't argue with that. "How do you propose to do that?"

"Well I'd have to give you some background on my theories. Do you want to hear them?"

"Hell to the yeah!"

She looked around and then leaned forward as if she was about to impart classified government secrets.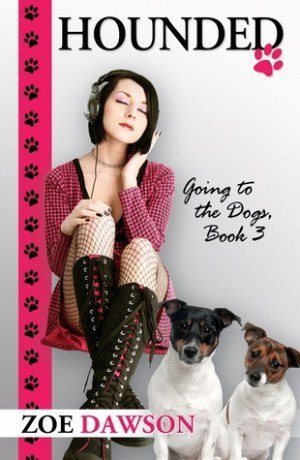 Series overview: Four women meet in a dog park and become fast friends. There's the girl-next-door, the nurturer, the Goth nerd, and the socialite. Four different backgrounds, four different personalities, but two things in common, their love for their funny, endearing four-legged furry friends and their deep friendship for each other. It's the funny, doggone tales of these women as they find true love in the urban jungle of New York City and snag the man of their dreams. Beware of dogs and deep belly laughs!
I'll get you and your little dogs, too!
Veterinarian Poe Madigan enters The Fur Ball with her Jack Russell terriers (aka The Terrible Two) to compete for a substantial cash prize that will keep her mother from losing her home. But when her fabulous partner sprains his ankle, Poe must trade him and his talented Bichon for a sexy, muscle-bound hunk who can't dance and his Basset Hound, Lazy Daisy. If that's not enough to make her despair, it seems The Terrible Two have angered someone and they're receiving death threats!
Security specialist Jared Taylor promises one of Poe's friends that he will go undercover as her dog dancing partner to protect her from danger. He didn't expect to find his staid, traditional life would be turned all topsy-turvy and he would find a soft spot for a neglected hound and fall for a Goth princess. But when he reveals who he really is and why he is in Poe's life will it destroy the foundation of trust they've built? Could he lose the real prize – Poe?
Amazon
Goodreads
It used to be that Zoe's deepest wish was to be a full time romance writer. Not only did she dislike having to split her time between what she loved to do and her day job, but she hated the damn commute. But with determination, persistence, and a little luck, that dream came true just this year. She's busily writing all day long in her very own home office and loving it. Oh, and the commute is great!
Her new dreams include traveling and seeing some of the world, one day owning a beach house to be close to the beautiful ocean (She believes she was a mermaid in another life.), and seeing her books in movies.
When she's not busy with writing, she's painting or killing virtual mmorpg monsters in World of Warcraft, where getting armor for her characters is better than jewelry. She lives in North Carolina with her two grown children and one small, furry grey cat.
Find out more
Website
Blog
Twitter
The Loyalist's Wife by Elaine Cougler
Mapping the Book
About the Book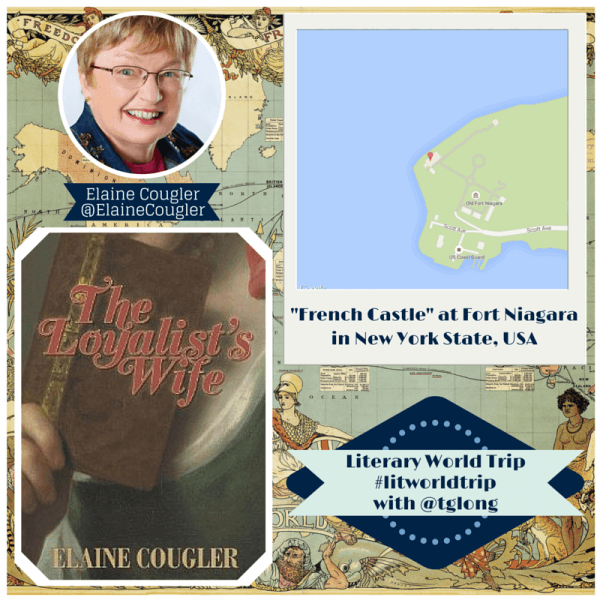 Book/Scene Location: The wonderful and historic "French Castle" at Fort Niagara in New York State.
What happens there? Lucy Garner struggles through war-ravaged New York state to find her Ranger husband. It's the American Revolutionary War and they are loyalists fighting for the British. After months of hearing nothing about John, Lucy has one last interview in the French castle at Fort Niagara to no avail. She must go on without John and plans to marry another man and leave on the morrow to cross the Niagara River.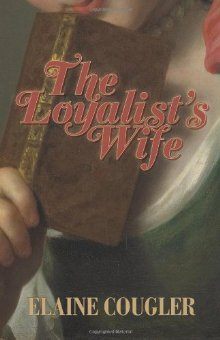 When American colonists resort to war against Britain and her colonial attitudes, a young couple caught in the crossfire must find a way to survive. Pioneers in the wilds of New York State, John and Lucy face a bitter separation and the fear of losing everything, even their lives, when he joins Butler's Rangers to fight for the King and leaves her to care for their isolated farm. As the war in the Americas ramps up, ruffians roam the colonies looking to snap up Loyalist land. Alone, pregnant, and fearing John is dead, Lucy must fight with every weapon she has.
With vivid scenes of desperation, heroism, and personal angst, Elaine Cougler takes us back to the beginnings of one great country and the planting of Loyalist seeds for another. The Loyalist's Wife transcends the fighting between nations to show us the individual cost of such battles.
Amazon
Goodreads
Sigrun (The Bandamann Saga) by Deidre Mapstone
Mapping the Book
About the Book
About Deidre Mapstone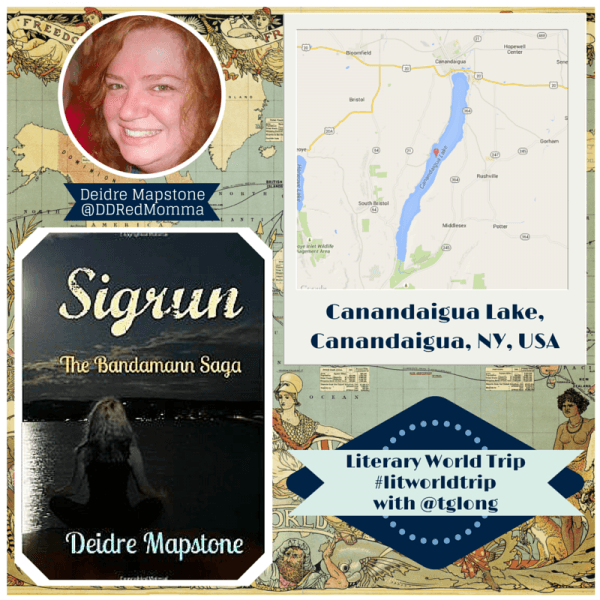 Book/Scene Location: Canandaigua Lake, Canandaigua, NY, USA
What happens there? Summers are fantastic on the lake! Swimming, skiing, jetskiing, party boating, fishing, festivals! It's the best place to be, it's name even means, "The Chosen Spot."
Excerpt
"Well, you see, children," Cord began, "things aren't as they seem with us Lundgrens." He hesitated for a moment and cleared his throat. Heather took his hand in hers. He seemed to gain confidence from it and went on. "We're…well…special you see. Not in the way that parents think their kids are special and as they should. But we're different. I mean really different." He paused again, trying to find the right words.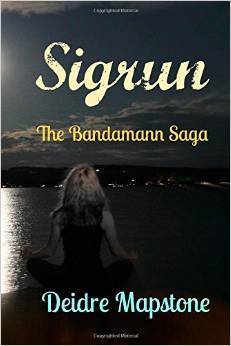 The Lundgrens own and operate Sigrun: A family restaurant on the shores of Mount Desert Island, Maine. They are a hard working, every day, American family. But like every family, they have their secrets, some stranger than others. The way these secrets unfold may surprise you.
Their tale begins with a familial ease considered unique to most, but their seemingly perfect relationships are ordinary compared to what hides beneath the surface.
Amazon
Goodreads
Deidre Mapstone grew up in Rochester, New York. She's a city girl who spent her summers on Canandaigua Lake. She had the best of both worlds, and a most normal, cheery childhood.
She married her high school sweetheart right out of college, and a few years later started their family. They now have three children, the first to soon attend college.
Being busy raising three children, Deidre didn't discover writing as an occupation until later. She wrote things throughout her life, but didn't think she'd ever have anything published. That is, until self publishing came along.
The self publishing world opened up possibilities to Deidre that before, she just thought of as dreams and ideas.
With encouragement from her writing daughter and her husband, Deidre wrote a dream down that spun into a story and blossomed into her first novel, Sigrun, the Bandamann Saga.
She has discovered and fallen in love with the world of writing, and hopes to bring many of her ideas to others!
Website
Twitter
Click here for the rest of the schedule



Have you enjoyed any of these books or any other titles set in New York, USA? Let us know in comments!
#litworldtrip on Pinterest
Follow Terri Giuliano Long's board Literary World Trip #litworldtrip on Pinterest.
Literary World Trip: Giveaway

Spread the word, submit your locations and keep stopping by each day to Tweet about the world trip – each of these will give you a chance to win.
Check out the Twitter chatter, plus Instagram and Pinterest pics using #litworldtrip. You can easily follow the #litworldtrip Twitter feed here.