Click here for Day 4 of the Literary World Trip
St Anne's Day by Janice Lane Palko
Mapping the Book
About the Book
About Janice Lane Palko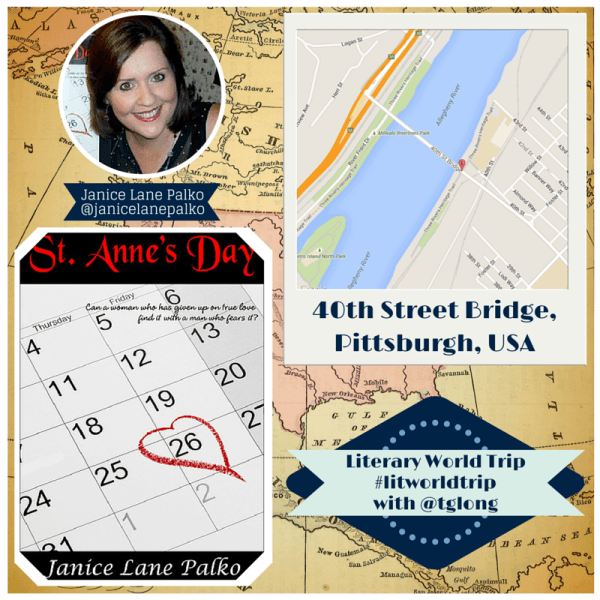 Book/Scene Location: Waiting in traffic on the 40th Street Bridge in Pittsburgh, USA to cross over into the Lawrenceville area of the city
What happens there? Anne Lyons fumes while she sits in traffic on Pittsburgh's 40th Street bridge as she commutes to her first day on a new job taking care of an elderly spitfire recovering from heart surgery. When she meets the woman's handsome son, an instant attraction is ignited.
Excerpt
"Come on. Move it." Anne Lyons slapped the steering wheel, her green eyes darting to the Malibu's digital clock. She was to be there by nine. If the traffic on the Fortieth Street Bridge didn't soon move, she was going to be late on her first day.

Her shoulder muscles kinked as she berated herself for not allotting time for traffic. Anne hadn't yet mastered estimating allowances for Pittsburgh's gridlock. She sighed. The rush of air from her lips ruffled a rust-colored curl that had slipped from her headband.

The previous night's thunderstorms had chased away the sultry July air. Beneath the bridge, the Allegheny River, a shimmering glass path, coursed toward downtown Pittsburgh, which gleamed like the crystal in Macy's Bridal Registry Department.

Ahead, an orange-vested worker flipped his "Stop" sign to "Slow," waving Anne's car through. "Finally." Her nose wrinkled at the odor of hot asphalt. There were only two seasons for Western Pennsylvania roads–snow removal and pothole patching.

The clot of cars flowed over the bridge. She turned left onto Butler Street, entering the heart of Lawrenceville. Anne had never been to this section of the city before. She was amazed at how much life had been packed into so little land. Bars, restaurants, doctor's offices, banks, and repair shops were crammed together, and where they left off, row houses took over, running perpendicular from the main street, up the hill to the site of the new Children's Hospital.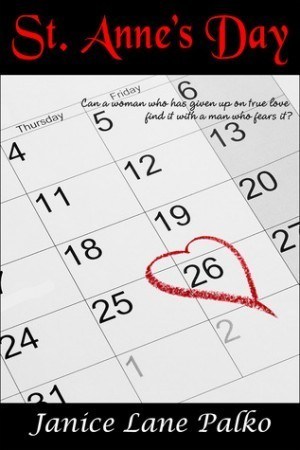 As Anne Lyons fumes while waiting in traffic on a refreshingly cool July morning in Pittsburgh, she glances out her car's window and observes that the day is so clear, you can almost see into the future. Little does Anne know how prescient she is for she is about to meet her destiny.
Anne, who has recently been fired from her nursing position at a nearby hospital due to a flare up of her explosive temper, has been contracted as a private-duty nurse to care for Peg McMaster, an elderly spitfire who has recently been released from the hospital following heart surgery. The only complication–Peg's handsome son, Gerry "Mac" McMaster, who is one of the city's most eligible bachelors and the proprietor of Mac's Place, a popular night spot.
His flirtations and charm unnerve Anne and his good looks, especially his gas-flame blue eyes, ignite something in Anne—something that disturbs her.
Peg perks up when she is introduced to her new nurse. The old woman has been praying to St. Anne, the patron saint of housewives, to find a suitable wife for her playboy son before she dies, and she believes that Anne's arrival on the Feast of St. Anne, is the answer to her prayers.
Peg and her friend Irma begin scheming to bring Anne and Gerry together, much to the chagrin of Gerry's current lover, the imperious Claudia.
Anne bears terrible scars from a previous relationship, and she sees many of her former lover's traits in Gerry. The last type of man Anne wants to become involved with is another womanizer.
As for Gerry, he has vowed never to settle down.
Initially, Anne and Gerry clash, but when she finds herself, against her better judgment, falling in love with him, she is disturbed. Can she get beyond her hurt? Can she trust him with her heart? Can a man like Gerry, who goes through lovers faster than a premenstrual woman goes through chocolates, ever be serious about a woman?
A romantic dramedy, St. Anne's Day, with its ensemble of memorable characters—Anne's fastidious mother, Grace, push-over father, Bill; and free-spirited roommate, Janetta–can be likened to Shakespeare's The Taming of the Shrew meets the TV sitcom Cheers. Readers have described it as spirited, sparkling and sassy.
While hysterically funny, St. Anne's Day is also heartwarming and inspirational and will leave you cheering when Anne Lyon's day finally arrives.
Amazon
Goodreads
In addition to St. Anne's Day, Janice Lane Palko is the author of the the Christmas novel, A Shepherd's Song and the romantic suspense, Cape Cursed. She has been a professional writer for nearly 20 years, and has written everything from greeting cards to magazine features.
She is currently a writer for the website Popular Pittsburgh and has been the executive editor of Northern Connection and Pittsburgh 55+ magazines, where she also contributed to the editorial content, writing her own column and numerous features. Palko has also been a columnist with the North Hills News Record, and her work has appeared in publications such as The Reader's Digest, Guideposts for Teens, Woman's World, The Christian Science Monitor, The Pittsburgh Tribune-Review, The Pittsburgh Post-Gazette, and St. Anthony Messenger. Her essays have been featured in the books A Cup of Comfort for Inspiration, A Cup of Comfort for Expectant Mothers, and Chicken Soup for the Single's Soul.
Palko has won several awards for her writing including the prestigious Amy Foundation Award of Merit. Her writings have also garnered accolades at the The Kent State Writer's Conference, and she has been selected as Writer of the Month by Oatmeal Studio greeting cards.
She is at work on her next novel, another romantic suspense entitled Most Highly Favored Daughter, which will be released later this year.
Blog
Website
Twitter
Recess Rules by Jill Vialet
Mapping the Book
About the Book
About Jill Vialet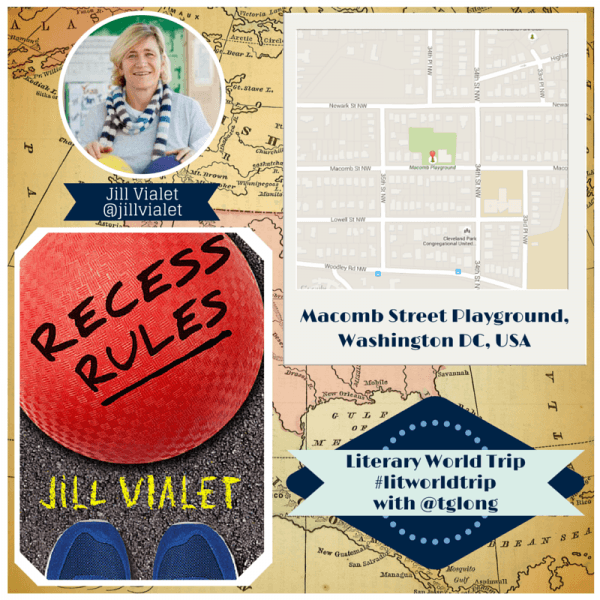 Book/Scene Location: Macomb Street Playground, Washington DC, USA
What happens there? The Macomb Street Playground is the inspiration for the Grove in Recess Rules. Clarence, the angel-on-probation who helps save recess at Magruder Elementary School, was inspired by a former Macomb Street Playground Supervisor.
Excerpt
Cassie cleared her throat. "You know what makes me the maddest?" It was a rhetorical question. She didn't really care if anyone else had a clue. "I don't hate you, Marcus. You're not worth it. But you've made me hate recess. How messed up is that?!?"

And at that Marcus roared and lunged at Cassie. What happened next would be debated by the four friends for many years to come. Bryant insisted there was a flash of light, but the other three remembered smoke. Cassie said she saw a puzzled look cross Marcus's face as he froze mid-air. Zee insisted he heard Marcus fart, but Toni said that Zee was just being immature. They all agreed, though, that Marcus froze mid-air and came crashing to the ground and that suddenly, standing right next to Marcus's statue-like body, a man in sweats suddenly appeared.

The man walked over and knelt down next to Marcus, "Aw man, I am so busted." He poked at Marcus's lifeless form and rolled him over so that he was face up. And then he looked up at Cassie. "Hey," he said. And then in a tone that was clearly meant to be reassuring, "Don't worry, he's okay."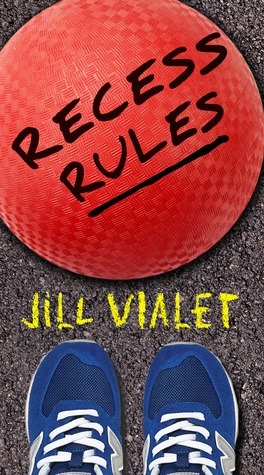 After losing her parents in a car crash at age 8, life just hasn't been the same for Cassie Murphy. Now a fifth grader at Magruder Elementary, Cassie and her three friends, Zee, Toni and Bryant, have been trying to make the best of the same old routine of school, but somehow all the fun has been sucked out of it, and especially at recess. Between a dwindling number of students on the blacktop and Marcus Mackey's need to bully away any games that might be had, Cassie and her crew are on the verge of giving up on their formerly beloved recess. The four friends get help from an unexpected place when an "angel-on-probation" named Clarence is sent to earth to help them fix recess. Clarence's crusade gains new importance along the way, as Cassie learns that it's alright to take the risk and care enough to try to change things for the better.
Recess is just starting to be fun again when the Superintendent visits and unveils his plan to eliminate recess altogether. Cassie and her friends are devastated, but they realize they have just one shot to convince the Superintendent that recess is important. Will Cassie and her friends be able to convince the Superintendent that it's worth the risk to care about recess, too?
Amazon
Goodreads
Jill Vialet is the founder and CEO of the national non-profit organization
Playworks
. Playworks believes in the power of play to bring out the best in every kid, and has offices in 23 cities across the United States, bringing healthy, fun, inclusive play to over 500,000 kids each year. Vialet is the author of the middle grades novel, Recess Rules.
Website
Twitter
The Curse Servant (The Dark Choir Book 2) by J.P. Sloan
Mapping the Book
About the Book
About J.P. Sloan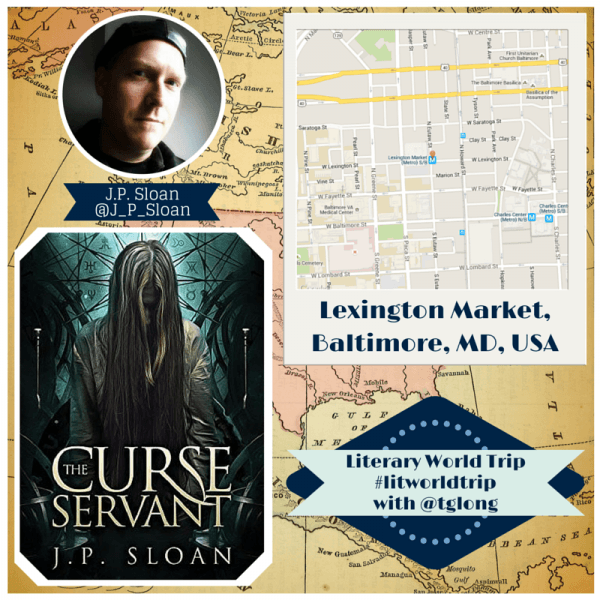 Book/Scene Location: Lexington Market, Baltimore, MD, USA
What happens there? The protagonist Dorian Lake meets Del Carmody, a freelance information peddler who may have information on a West Coast Netherworker who can help Dorian locate his soul.
Excerpt
I shook Carmody's hand with a grin. "So what's the business of the day? Are you a Collector, too?"

Edgar sniffled over a bite of falafel. "No, man. Del's pretty much an anything anywhere man. Been in the business a long time."

Del added with a wiggle of his red-and-white brow, "I know where the bodies are buried, one could say."

"Netherwork?" I asked.

"On occasion, though lately there's more money to be had in information. Which brings me to the point of our present acquaintanceship." He spoke the word like a child trying on his father's clothes.

Edgar nudged my arm. "You're gonna love this."

"I'm listening."

Carmody drew me in closer with a jerk of his head. "I hear you have a minor soul problem, vis a vis, it's backstroking somewhere in the Nether."

"You heard that, have you?"

"I hear things, Mister Lake. That's what keeps me in business these days. It's what keeps me alive, and more importantly, drinking. Yeah, I heard all about your little skirmish with Osterhaus. So has any pisser with half an ear to the bedrock."

"What's your point?"

"I know someone."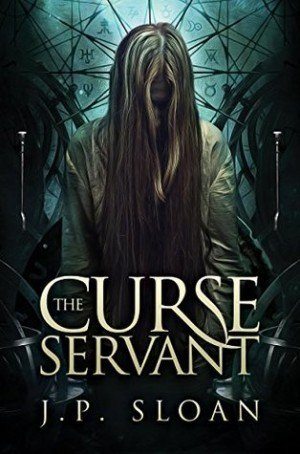 The one person standing between Hell… and an innocent girl… is a man without a soul.
A regular life isn't in the cards for Dorian Lake, but with his charm-crafting business invigorated, and the prospect of a serious relationship within his grasp, life is closer to normal than Dorian could ever expect. In the heat of the Baltimore mayoral campaign, Dorian has managed to balance his arrangements with Deputy Mayor Julian Bright with his search to find his lost soul. Dorian soon learns of a Netherworker, the head of a dangerous West Coast cabal, who might be able to find and return his soul. The price? Just one curse.
Sounds easy… but nothing ever is for Dorian. A dark presence arrives in the city, hell-bent on finding Dorian's soul first. Innocents are caught in the crossfire, and Dorian finds it harder to keep his commitments to Bright. When the fight gets personal, and the entity hits too close to home, Dorian must rely on those he trusts the least to save the ones he loves. As he tests the limits of his hermetic skills to defeat this new enemy, will Dorian lose his one chance to avoid damnation?
Amazon
Goodreads
J.P. Sloan is a speculative fiction author … primarily of urban fantasy, horror and several shades between. His writing explores the strangeness in that which is familiar, at times stretching the limits of the human experience, or only hinting at the monsters lurking under your bed.
A Louisiana native, Sloan relocated to the vineyards and cow pastures of Central Maryland after Hurricane Katrina, where he lives with his wife and son. During the day he commutes to the city of Baltimore, a setting which inspires much of his writing.
In his spare time, Sloan enjoys wine-making and homebrewing, and is a certified beer judge.
Website
Twitter
Click here for the rest of the schedule



Have you enjoyed any of these books or any other titles set in Pittsburgh, Washington DC or Baltimore, USA? Let us know in comments!
#litworldtrip on Pinterest
Follow Terri Giuliano Long's board Literary World Trip #litworldtrip on Pinterest.
Literary World Trip: Giveaway

Spread the word, submit your locations and keep stopping by each day to Tweet about the world trip – each of these will give you a chance to win.
Check out the Twitter chatter, plus Instagram and Pinterest pics using #litworldtrip. You can easily follow the #litworldtrip Twitter feed here.