I've enjoyed spotlighting several authors in a variety of "A Week with…" features over the past few months. Indeed, I've been very honored to be able to do so! 9th August is National Book Lover's Day so this week I've chosen to turn the feature on its head a little in order to celebrate book lovers. Whether you're an avid reader or a casual one, loyal to paperbacks or embracing eBooks, blogging your book loves or sharing them with friends over coffee, I hope you'll find something to inspire you this week.
Thank you, book lovers. Your imaginations truly bring the words on paper to life.
Stop by again on Thursday this week for a new feature post. You can also enter the giveaway below and you could win a $25 Amazon gift card.This giveaway will run for one month and you can share every day for extra entries.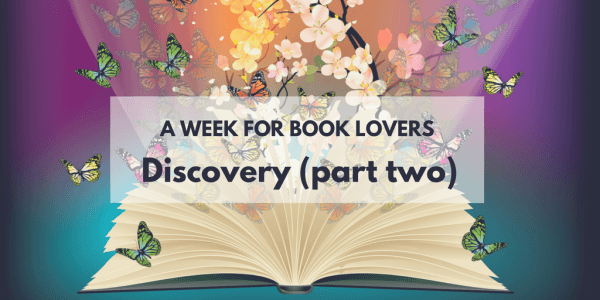 Today's post features more discoveries made via Open Culture. I can't recommend this site enough but you might want to make sure you have plenty of time if you visit because it's hard to tear yourself away! If you have any discoveries to share, please leave me a comment. If you'd like to see part one, click here.
James Joyce's Finnegans Wake Read Unabridged & Set to Music By 17 Different Artists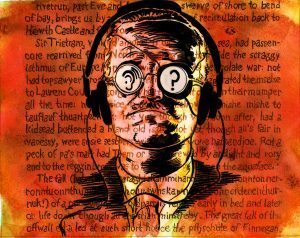 Not every book lover I've met has a place in their heart for Joyce, but this unique rendition of Finnegans Wake is certainly worth discovering! The creativity and unique performances of every chapter offer an extraordinary approach to Joyce's work.
The idea was a simple enough question. How many ways are there to read James Joyce's great and bizarre novel Finnegans Wake?

Seventeen different musicians from all around the world, each assigned to render a chapter aurally. The only requirements: the chapter's words must be audible, unabridged, and more or less in their original order.
~ Archive.org (by Waywords and Meansigns)
An Archive of 3,000 Vintage Cookbooks
If the modern range of cookbooks isn't enough to satisfy you, how about a look back over 3,000 vintage volumes? The Cookbook and Home Economics Collection at the Internet Archive should certainly have something for everyone!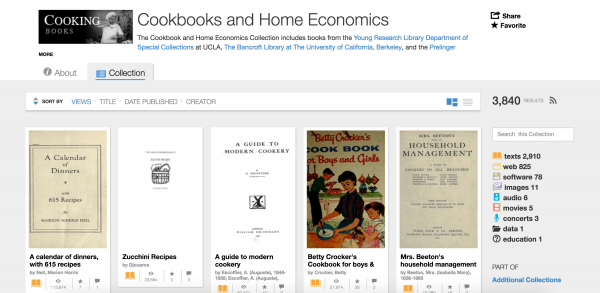 Its items, drawn from the Young Research Library Department of Special Collections at UCLA, the Bancroft Library at The University of California, Berkeley, and the Prelinger Library, "take us back to an America in the early decades of the 20th century covering topics on cookery, textiles, family and home, budgeting, domestic sciences, and many other delightful topics." Some will find them more inherently delightful than will others, but the historical value remains undeniable: each and every book in the collection takes us back to a different time and place with its own interests and priorities, in the kitchen as well as elsewhere in the home.
~ Open Culture
64-Hour Playlist of Sherlock Holmes Stories
If you're a fan of Sherlock Holmes, you might enjoy this 163-track playlist, with 64 hours of narration!
The very first voice it presents is Doyle's own, speaking briefly on Holmes and spiritualism, which gives us time to settle in for a five-part rendition of the very first in the Holmes canon (and thanks to "more female interest than is usual," one of Doyle's personal favorites), "A Scandal in Bohemia." It comes performed by Sir John Gielgud and Sir Ralph Richardson, two of the most respected actors in 20th-century British theater. We've previously featured their portrayals, Gielgud's of Holmes and Richardson's of Watson (and we can hardly neglect to mention the one and only Orson Welles', of Moriarty), on the New Adventures of Sherlock Holmes radio drama.
~ Open Culture
A 50 Question Quiz from The Strand Bookstore
If this all seems a little too relaxing, why don't you try your literary prowess with this 50-question quiz from Strand Bookstore?
The Strand Bookstore has included a literary matching quiz in its job application form since the 1970s. Here are some quizzes from years past. Can you match the authors and titles? Beware of trick questions.
~ The New York Times
Old Book Illustrations
One of the pleasures of enjoying old books, is discovering the illustrations within. Now, an archive called Old Book Illustrations is making these illustrations easy to see, search for, and download.
Old Book Illustrations allows you to download high resolution images of its hundreds of featured scans, "though it appears," writes Boing Boing, "the scans are sometimes worse-for-wear." Most of the illustrations also "come with lots of details about their original creation and printing." You'll find there many illustrations from an artist we've featured here several times before, Gustave Doré (see "Gorgons and Hydras" from his Paradise Lost edition, above). As much as artists like Cruikshank and Du Maurier can be said to have dominated the illustration of periodicals in the 19th century, Doré dominated the field of book illustration. In a laudatory biographical essay on the French artist, Elbert Hubbard writes, "He stands alone: he had no predecessors, and he left no successors."
~ Open Culture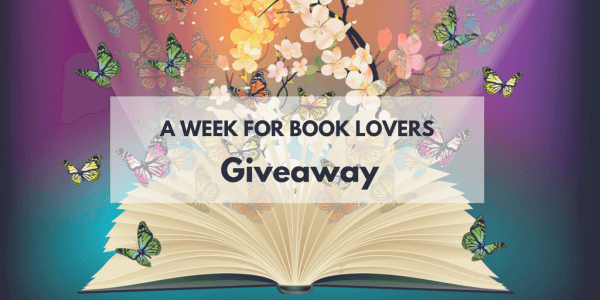 Please note, the views of the post author - and indeed anyone who guest posts on Day by Day - are not necessarily indicative of the views of Terri Giuliano Long and comments are moderated to filter spam/profanity only.


"Censorship always defeats its own purpose, for it creates in the end the kind of society that is incapable of exercising real discretion."