Welcome Giacomo Giammatteo!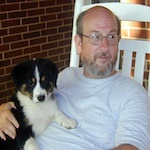 I am thrilled to have had Giacomo Giammatteo, author of Whiskers and Bear, as my special guest on the blog all this week. On Monday, I shared his very open and touching interview. On Wednesday, Giacomo shared a heartwarming guest post about the best 'investment' he ever made. Today – last but not least – we can enjoy a beautiful excerpt from Whiskers and Bear!
As well as these feature posts, there is also a $25 Amazon gift card giveaway. You can enter this below and share the feature daily for extra entries.
Thank you again to Giacomo Giammatteo for these wonderful posts!

Whiskers & Bear: Another Grave
I climbed up onto the tractor, a Kubota 4630, with a six-foot bucket on the front. It was a powerful machine, and we'd put it through the hoops more than a few times. What I mean is that my wife Mikki and I had dug a lot of graves.
I tied an old cloth diaper around my forehead and draped the end of it over the top of my bald head. There wasn't much better than a cotton cloth for keeping sweat out of your eyes, or the sun from burning your head. I turned the key and revved the engine. After letting it idle a moment, I lifted the bucket and drove toward the south side of the property where Mikki was waiting for me. She'd already gotten a few blankets and a clean sheet. For this one, she'd brought a pillow, too.
I reached up and wiped my eyes. I was getting damn tired of burying things.
An old white pickup crept down the gravel driveway, coming to a stop near the fence.
A neighbor leaned out and hollered. "What's goin' on?"
I wished he'd have kept going.
"Nothin'," I said, but not loud enough for him to hear.
The door opened, and he stepped out and walked over to the fence, using his right hand to shield his eyes from the sun as he peered over the top rail.
"What are you doin'?"
I could see there was no getting away from it. I muttered my answer a few times so my voice wouldn't crack when I yelled.
"Diggin' a grave," I hollered back.
"A grave? Which one died?"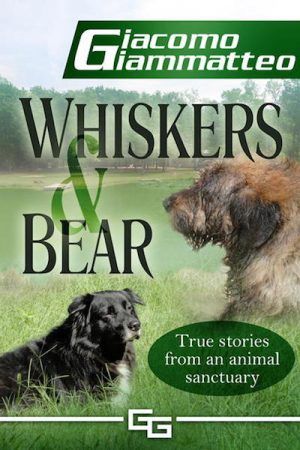 Which one? That's what it had come to for most of the neighbors and relatives and friends. Which one died. As if it didn't matter. As if having forty-five animals made it easier to deal with when one of them died.
He came in through the side gate and headed in my direction. He walked slowly, which gave me time to compose myself. It's never easy to bury a friend, but this one…this one was special.
Mikki walked over to me. "He's just trying to help."
I nodded.
I don't need his help, I thought, but the fact of the matter was I could probably use it.
It hadn't rained in weeks, and the damn Texas ground was as hard as concrete. Even if the tractor did cut through, it could only go so deep; we'd have hand work to do at the bottom.
Our neighbor was about twenty feet away. He took off his hat and swiped at his forehead. It was a scorcher today and had been for a month or so.
"Who was it?" he asked.
I couldn't say, but I managed to gesture toward Mikki. She lifted the corner of the blanket so he could see.
"Oh shit!" he said. "I'm sorry."
"Thanks," I said.
He unbuttoned his shirt and grabbed a shovel I had leaning against a small oak tree. "Might as well get this done."
I nodded again. He was right, of course, but I was in no hurry to put another friend in the ground. I cranked the engine up a little higher, shoved the tractor into low gear, and positioned the bucket for the first scoop of dirt. The bucket hit the ground with a metallic thud. It didn't do much more than break the surface.
"Whew!" the neighbor said. "Going to be a long day."
"That's for sure."
"How long have they been with you?" he asked.
They. I thought about what he said. I would have laughed if not for the circumstances. Everyone referred to the two of them as one. They or them. Bear and Whiskers. Whiskers and Bear. It was a cold day in July if anyone mentioned one without the other.
I handed him my bottle of water; he looked thirsty.
"They've been with us a long time. A damn long time."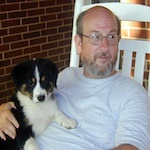 Giacomo Giammatteo is the author of gritty crime dramas about murder, mystery, and family. And he also writes nonfiction books including the No Mistakes Careers series as well as books about grammar and publishing.
When Giacomo isn't writing, he's helping his wife take care of the animals on their sanctuary. At last count they had forty animals—seven dogs, one horse, six cats, and twenty-six pigs.
Oh, and one crazy—and very large—wild boar, who takes walks with Giacomo every day and happens to also be his best buddy.
Find Giacomo Giammatteo here: Facebook LinkedIn Pinterest Twitter Website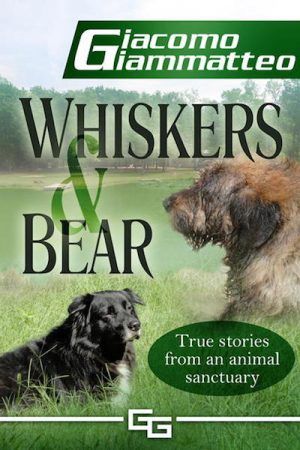 Whiskers and Bear were two of the best dogs in the world. They didn't always listen or even try to listen, but they were loyal to a fault, and they were the best of friends. They hunted all of their food, and they protected our animal sanctuary with no regard for their own safety.