What Would You Attempt To Do If You Knew You Could Not Fail?
This was the question posed at my therapist consultation group five years ago to promote growth and conversation. With abandonment I exclaimed, "I'd write a book!" Necks turned. Eyes widened. Jaws dropped. I clapped my hand over my mouth. Oops! Did I just say that out loud?
This was my secret. A tucked away, I'm-not-smart-enough, the-competition-is-too-tough, but-I'm-a-therapist-not-a-writer, secret that was now under the scrutiny of four very competent therapists. Long story short, after an exhausting hour of probing questions about why I wanted to write, (to touch other's lives, of course), I agreed to take a four-week leave of absence to explore whether or not I should pursue the love of my heart: writing. That year I'd turn forty, my children would hit the tween/teen years, I'd been suffering from professional burn-out: the timing seemed ideal. After the four weeks were up, my supervisor knew that I was coming in to tender my resignation. It was time for a new chapter in my life.
I envisioned penning a story that was not only entertaining, but also healing; a tale of grief that would be different than a "how-to" bereavement non-fiction book. I also wanted to give the reader a peek behind the curtain of what a therapist goes through when she takes on an emotionally challenging case whilst balancing the drama of her personal life. As therapists, we are triggered by our clients' emotional pain and it can get pretty hairy when old stuff is reactivated or we aren't taking care of ourselves.
I gave birth to my first draft of Out of Breath nine months after I left my job as a therapist. I often wrote four to six hours a day. Those days were precious; I wonder if I'll ever relive that high.
Good thing I was naive about the business side of the writing world. What's a query? An agent? You mean, people won't just plunk down money because I have an interesting story? The rejections, the stress, the tears, the massive self-doubt, all led me to question why I gave up a secure career as a successful grief counselor, only to have agent after agent tell me that, "Your project just isn't what we had in mind."
When I was a counselor, I worked with a number of issues: grief, sexual abuse, marital issues, post-traumatic stress disorder, physical abuse, and domestic violence. I heard grim stories. I met mothers who would give up their babies for drugs and women who would work three jobs to keep their babies. One thing I would not tolerate: people seeing themselves as victims. I heard people out. I listened to their plight. Joined with them. Felt empathy. But, because I grew up in a violent, abusive, and chaotic home, and yet, sought out loving relationships, I had/have little tolerance for the victim mentality.
However, when an agent showed interest in me for nearly nine months, then ultimately passed, I did dwell in my misery, threatening to hit the delete button, and dive under my covers for eternity. That is, until I learned about the Indie Community, and in particular, received direction and support from Terri Giuliano Long.
I am a huge believer in kindness and serendipity; things working together for the greater good. I read In Leah's Wake by Terri Giuliano Long because of the psychological nature of the story and the age of the girls in the book (at the time I had a teen and tween.) I couldn't believe that Terri did not have any psychological training and I wanted to praise her for her characters and gave her a rave review on Amazon. She contacted me and since then has helped me immensely through introducing me to Indie events.
Through participating in Blog Tour de Troops, I posted a blog about my step-father's involvement in the Korean war, which drew 160 + comments. Each person who commented received a free copy of Out of Breath. Each of those copies were matched and a troop received a copy of Out of Breath as well. During the holidays, I was involved in the 12 Days of Giveaways where I lowered my book to 99 cents.
In the past six months, I have watched Out of Breath go from being an unknown novel to ranking Top 100 in Psychological Thrillers on the Kindle and hit its best rank in the 400's!! I have modeled myself after Terri Giuliano Long's generosity and am encouraging other unknown and even unpublished (my writing partner!) authors, to partake in this loving, Indie community that looks out, encourages, and helps one another. I make it a point to purchase other Indie books, such as On The Island by Tracey Garvis-Graves (who will be interviewed on my blog next month!), Broken Laces by Rodney Walther, and Surviving Emily, by Laurie Bellesheim. It's so refreshing. I'm also encouraging my writing partner, Christina Mercer, to join our Indie Community with her first novel, Arrow of the Mist, which placed in the Top 50 in the 2010 Amazon Breakout Novel Award Contest. I feel freedom in my writing, joy in promoting others, and while I know my work is not flawless, I believe I have achieved my original goal: to write a novel that touches people in their grief, ministers to their wounds, and helps them heal. While it would be amazing to be a New York Times Bestseller or make the Top 100 on the Kindle overall, nothing can replace a kind review or personal email from a bereft reader who says that I "got them" or "understood their grief." This is the ultimate Top 100 – to connect with another!
As a way to thank my readers, I would like to thank the first three who subscribe to my blog, by sending them a signed, paperback version of Out of Breath! Make sure you leave your e-mail! You can catch up on past articles, interview with Terri Giuliano Long, and an interview with Traci Garvis-Graves in May!
Bio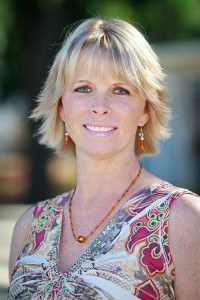 Susan Salluce, MA, CT, holds a Master's Degree in Counseling Psychology and is a Certified Thanatologist-a death, dying, and bereavement specialist. With a passion for writing, impacting the bereaved, and having experienced her own sense of compassion fatigue, she wrote Out of Breath which is available on all E-readers and in traditional book form on her website in December of 2011 and in a variety of local book stores.
Susan continues to contribute to the field of bereavement through her writing, consultant work, and her work with Friends for Survival, a non-profit dedicated to those affected by a suicide death. She is currently at work on a parenting book based on her blog and a chic-lit book due out by 2013.
When Susan is not working on her novels, you can find her either in the foothills of the Sierra Nevada's or on the beaches of Aptos, Ca. What she truly calls home is anywhere she is with her amazing, loyal, and fun children, Kellen and Marina, and with her best friend/husband of twenty-three years, John.
Website ~~ Blog ~~ Facebook ~~ Twitter ~~ Goodreads
Out of Breath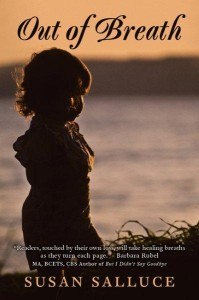 On a drizzly October night in the coastal town of Santa Cruz, California, seventeen-month-old Nevaeh drowns. Her mother, Alyssa Buchanan, is wild with rage and regret for placing her trust in her husband Seth, a former pro surfer who has a drug problem. Seth is adamant that he was clean the night of Nevaeh's death, yet a dirty drug test contradicts his story. His parental rights ripped and criminal charges looming, he battles to prove his innocence, love, and family devotion. Adding to the couple's grief, their five-year-old daughter Daisy hasn't uttered a word since her sister's death. Alyssa turns to childhood friends and local police officer, Greg Wallace, for comfort and support. Although Greg portrays heroic devotion and justice, inwardly he swims with loss, narcissism, and explosive rage. He has long despised Seth and is more than willing to meet Alyssa's needs that reach far beyond friendship. Into this fragile scene steps therapist Katherine Middlebrook. Her practice consumes nearly all her time-time that is even more precious now that her mother's cancer has returned. She hesitantly accepts three new clients­-Greg Wallace, and Seth & Alyssa Buchanan, unaware of their intertwined history. Buried deep in Katherine's past is the loss of her own child. She's sure she can keep the boundaries of her past and her clients' lives clear until their intersecting tragedies awaken old demons.
An award winner in the South West Writer's Contest for literary and mainstream novel, Out of Breath is an exploration of parental grief, addiction, compassion fatigue, and suicide; it's the prodigal story of grace undeserved. Salluce's expertise as a psychotherapist and grief specialist enables her to create dynamic characters that will leave you breathless as you jeer their shadow sides and cheer their heroic journeys.
Amazon ~~ B&N ~~ Sony ~~ iBookstore ~~ Kobo
Excerpt
I wasn't asked to leave the home. Seth was. Daisy and I can stay here, but all I can see is my old life mocking my pain. A finger-painted picture of Nevaeh's is magnetized to the refrigerator. Her stuffed animals wait for her and Daisy to set up another tea party in their room. The stain of pink fingernail polish dots the rug in the bathroom. Just three weeks ago, Nevaeh locked herself inside to paint her toes, fingers, and half her hand and foot. She's everywhere and yet she is nowhere.
'I'm going to my daughter's funeral,' I say, my voice oddly foreign. 'I dreamt of proms and showers and weddings.' Oma squeezes me so hard that I feel I could break, but the pressure is soothing, like being swaddled.
Untimely death, parental grief, out of sequence-all of these terms swim in my head from the night at the hospital where a social worker held my hand and handed me pamphlets that would 'help me cope.' What no one knows is how Nevaeh was mine. I don't just mean mine, as in my daughter and not Seth's; Daisy and she have the same father. But Daisy, she's all Seth, right down to the color of her skin to the flecks of gold in her brown eyes; to her evasive temperament that keeps people at arm's length.
Nevaeh, she's all me. Blonde, blue-eyed, dreamy, like time doesn't exist. Our idea of the perfect day is cuddling, taking a walk down on the sand and letting the waves touch our toes, then more cuddling. I feel her absence like a limb, no, more than that, like half of me is sheared off.
Oma gets up on her knees and holds out a hand as if to assist me. I grin through my tears. 'I should be the one helping you up,' I say as I take hold of her arms and help her right herself.
She smiles. 'Thank you Alyssa. Even in your grief, you are full of light.' She always sees the best in me, even at my worst. As a child, I thought when my mother went back to work all day, leaving me at Oma's full-time, often night after night, that this was the worst. As it turned out, I wasn't left at all-it was as though I'd come home. Then I thought the worst was when my mom let me know, via a letter, a letter, that she'd fallen in love again and was moving to Germany. I'd had 48 hours to adjust to the idea. It wasn't the worst. I threw myself into my teacher's training, vowing to be just like Oma, the most wonderful kindergarten teacher alive. I thought the worst was waking up in Seth's apartment, still fresh with the smell of our sex, and seeing him get high before the sun came up. It wasn't the worst. I grew numb. The worst is knowing that in growing numb to his behavior, my baby was sacrificed. That's where Oma is wrong-my light went out the night Nevaeh died.
Giveaway
a Rafflecopter giveaway
All Indie Week posts
Amy Edelman – founder of IndieReader
Tahlia Newland – author of A Matter of Perception
Naomi Blackburn – co-moderator of Sisterhood of the Traveling Book
Jonathan Gould – author of Doodling
Greg – founder of Ereader News Today
Roz Morris – author of My Memories of a Future Life
Stephen Windwalker – founder of Kindle Nation Daily
Susan Salluce – author of Out of Breath
Pandora Poikilos – founder of Orangeberry Book Tours
Michael Burns – author of The Horn
Terri Giuliano Long's 'Ode to Book Bloggers'
Donna – founder of Girl Who Reads
Kathy – founder of I Am A Reader, Not A Writer
Rachel Thompson, author of The Mancode: Exposed
Adam Charles, founding Director of iWriteReadRate.com
Christine Nolfi, author of The Tree of Everlasting Knowledge