Ode to Book Bloggers
Last June, a month or so after I began marketing In Leah's Wake, an editor and former agent told me my novel has no redeeming qualities. 'You'll be lucky to sell 500 books,' she said. A rookie, I had no idea what to expect. When I published ILW, I'd dreamed of selling a 3,000 – 5,000 books, hoping healthy sales numbers would attract the attention of an agent or traditional publishing house for my next novel.
The agent had left New York, but she'd been in the business for a long time, and her words stung. Surely she knew better than I! I hung up the phone, heartbroken, depressed. Had I not been in the midst of my first blog tour, I might have pulled my novel off the market that day.
The bloggers who'd signed up for my tour, many of whom I now proudly call friends, had taken the time to review my book or interview me. It would be selfish to quit. Determined to see the tour through, I soldiered on. The kindness of the wonderful, caring people, the book bloggers, on that Novel Publicity book tour buoyed and sustained me.
Over the next few months, In Leah's Wake appeared on hundreds of blogs. Bloggers opened their hearts and generously spread the word about this quiet literary novel. Last August, In Leah's Wake hit the Barnes & Noble and Amazon charts. Now, eleven months after my disheartening talk with that agent, the book has sold 110,000 copies.
Book bloggers rock! I don't know how to say it any better. You are the fairy godmothers and godfathers of the literary world. For the love of books, you sprinkle your stardust. At your own personal expense, you invest your time, your energy and your talent into reviewing and promoting books – and, in so doing, you keep our dreams alive.
Even today, traditional media refuse to recognize or review indie books. John Locke, a megastar indie author recently inked a distribution deal with Simon & Schuster; he publishes his paperbacks under his own imprint and S&S distributes nationally to bookstores and retailers. Because traditional media refuse to cover him, John Locke, a member of the million+ e-book club, is virtually unknown outside the digital world-and his books languish on back-of-the-store shelves.
Bloggers fill that gap left by traditional media, by reviewing and sharing news about books. In this very real sense, bloggers are the heart and soul of the indie revolution. Without you, book bloggers, there would be no indie book sales. Your vision, your energy, and your determination powered and drive this amazing populist movement.
These days, readers have the great good fortune of hearing the funny, poignant, brilliant voices of talented new authors from around the world – voices that, just a few years ago, might have been silenced by the gatekeepers of the old guard. These voices reach into hearts and minds, forging connections, uniting us in a global community of readers and writers, reaching-through words-the better part of ourselves. For, at heart, this is what reading and writing are all about.
Today, finding a publisher is no longer my goal. This fall, I will publish my new novel, Nowhere to Run, on my own. Why? Because you, book bloggers, have shown me it can be done-and you've given me hope!
Here's to you, book bloggers! You are and always will be my heroes!
In Leah's Wake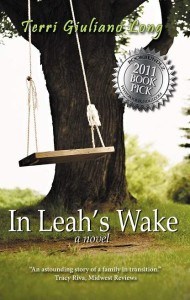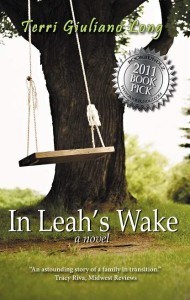 The Tylers have a perfect life-beautiful home, established careers, two sweet and talented daughters. Their eldest daughter, Leah, an exceptional soccer player, is on track for a prestigious scholarship. Their youngest, Justine, more responsible than seems possible for her 12 years, just wants her sister's approval. With Leah nearing the end of high school and Justine a seemingly together kid, the parents are set to enjoy a peaceful life: until everything goes wrong.
As Leah's parents fight to save their daughter from a world of drugs, sex, and wild parties, their divided approach drives their daughter out of their home and a wedge into their marriage. Meanwhile, twelve-year-old Justine observes her sister's rebellion from the shadows of their fragmented family-leaving her to question whether anyone loves her and if God even knows she exists.
Can this family survive in Leah's wake? What happens when love just isn't enough?
Amazon ~~ Amazon UK ~~ Barnes & Noble
Giveaway
a Rafflecopter giveaway
All Indie Week posts
Amy Edelman – founder of IndieReader
Tahlia Newland – author of A Matter of Perception
Naomi Blackburn – co-moderator of Sisterhood of the Traveling Book
Jonathan Gould – author of Doodling
Greg – founder of Ereader News Today
Roz Morris – author of My Memories of a Future Life
Stephen Windwalker – founder of Kindle Nation Daily
Susan Salluce – author of Out of Breath
Pandora Poikilos – founder of Orangeberry Book Tours
Michael Burns – author of The Horn
Terri Giuliano Long's 'Ode to Book Bloggers'
Donna – founder of Girl Who Reads
Kathy – founder of I Am A Reader, Not A Writer
Rachel Thompson, author of The Mancode: Exposed
Adam Charles, founding Director of iWriteReadRate.com
Christine Nolfi, author of The Tree of Everlasting Knowledge